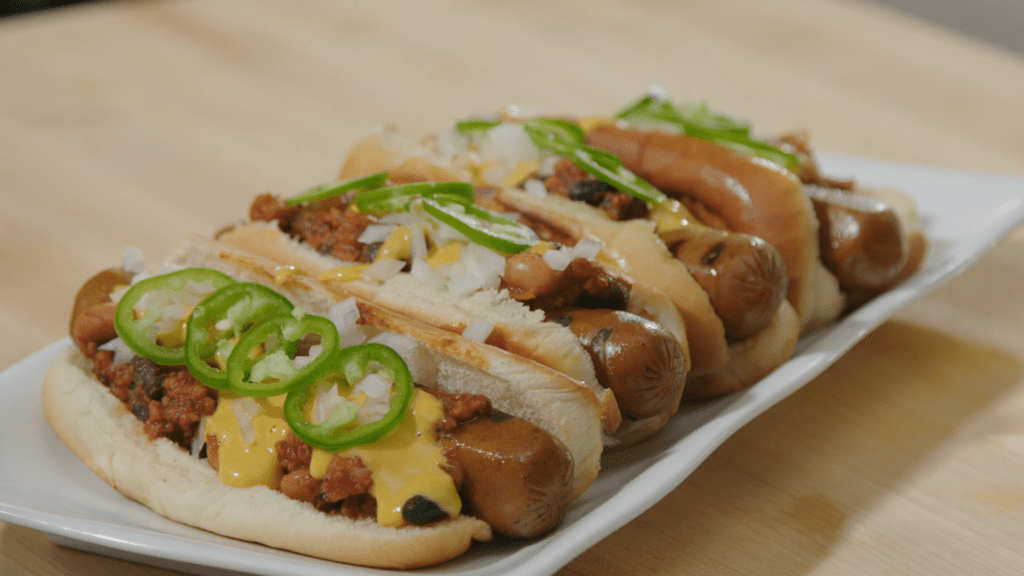 It's all been leading up to this: Chili Cheese Dogs. Grill up our Frankfurters, top with Chili Con Carne, plant-based queso, and all the fixings for an indulgent, messy meal.
Print Recipe
Ingredients
2 TB chopped white onion
4 Field Roast Frankfurters, scored on one side
4 hot dog buns, split down the center
a few spritzes of olive oil cooking spray
1 cup of Chili con Carne
½ cup plant-based queso
1 small jalapeño, thinly sliced
Directions
Warm a cast iron pan over medium heat on a stovetop or grill, and spray grill lightly with spray oil.  Place franks on the grill until grill marks appear, turning as you are cooking.
Slice the outer bread of the hot dog buns to square it off. Spritz four hot dog buns with a little cooking spray, placing into a preheated cast iron pan until toasted on both sides.
To assemble the Chili Cheese Dogs, place a grilled frank into each bun, layering with some of the Chili Con Carne, plant-based queso, chopped white onions and thinly sliced jalapeños. Serve immediately with a cold beer.
Recipe © Wicked Healthy, LLC