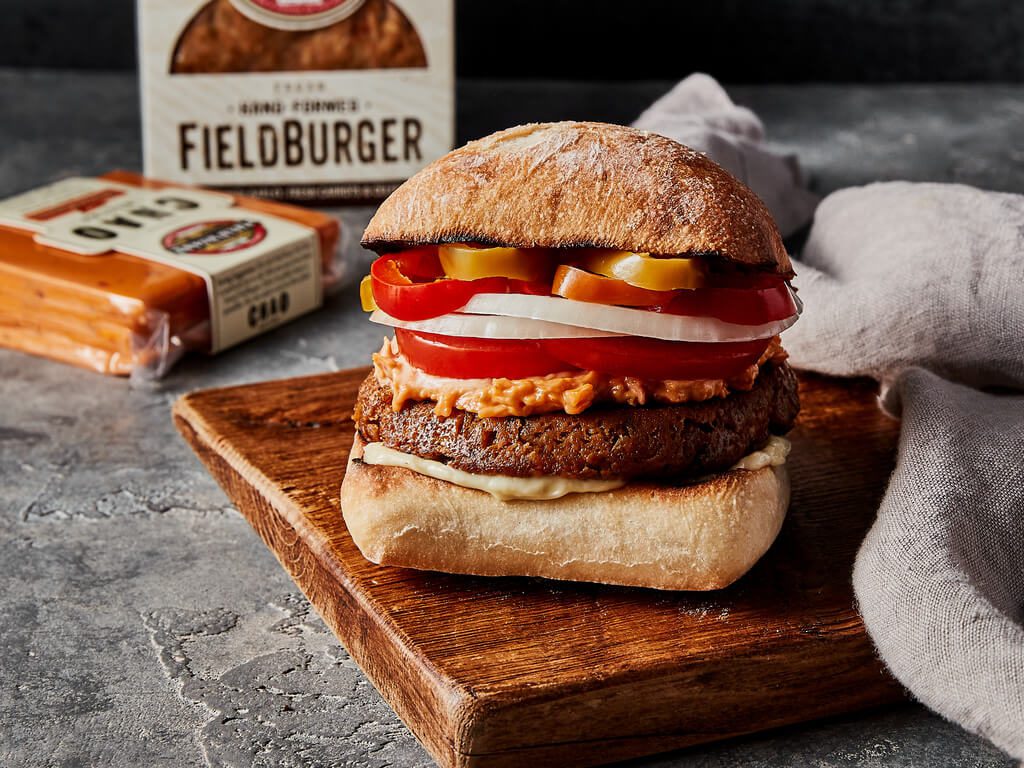 If you are looking for an explosion of flavor, you have found the right burger! The sweet tomato, pepper and onion complement the spicy and creamy pimento cheese and garlic mayo. This is a Field Roast employee favorite.
Print Recipe
Ingredients
4 Field Roast FieldBurgers
2-1/2 cups Pimento Cheese (recipe below)
4 Ciabatta Bread buns
1/2 cup Vegan Garlic Mayo
1 Medium Sliced Sweet Onion
2 Medium tomatoes, sliced
3 tbsp Vegan Butter
1/2 cup Sweet Cherry Peppers sliced
Pimento Cheese:
1 1/2 cups Vegan Mayo
4-oz. Roasted Red Peppers (1/4" dice)
1 tsp. Worcestershire sauce (Wizard's)
1 tsp. Onion Powder
1/4 tsp. Cayenne
1/4 tsp. Black Pepper 16 mesh
14-oz Tomato Cayenne Chao, shredded
Directions
Prepare Pimento Cheese ingredients.  Mix all ingredients well in stand mixer. Place in a covered bowl and set in refrigerator until ready to plate.
Butter and grill Ciabatta bread until golden brown grill marks appear and set aside. Next grill FieldBurgers until cooked to satisfaction.
Take grilled Ciabatta bread and dress both sides with garlic mayo. Add sliced tomato, sweet cherry peppers and sliced sweet onion. Place FieldBurger on bottom half of the Ciabatta bread. Scoop a dollop of pimento cheese and spread on FieldBurger. Close burger plate and serve.