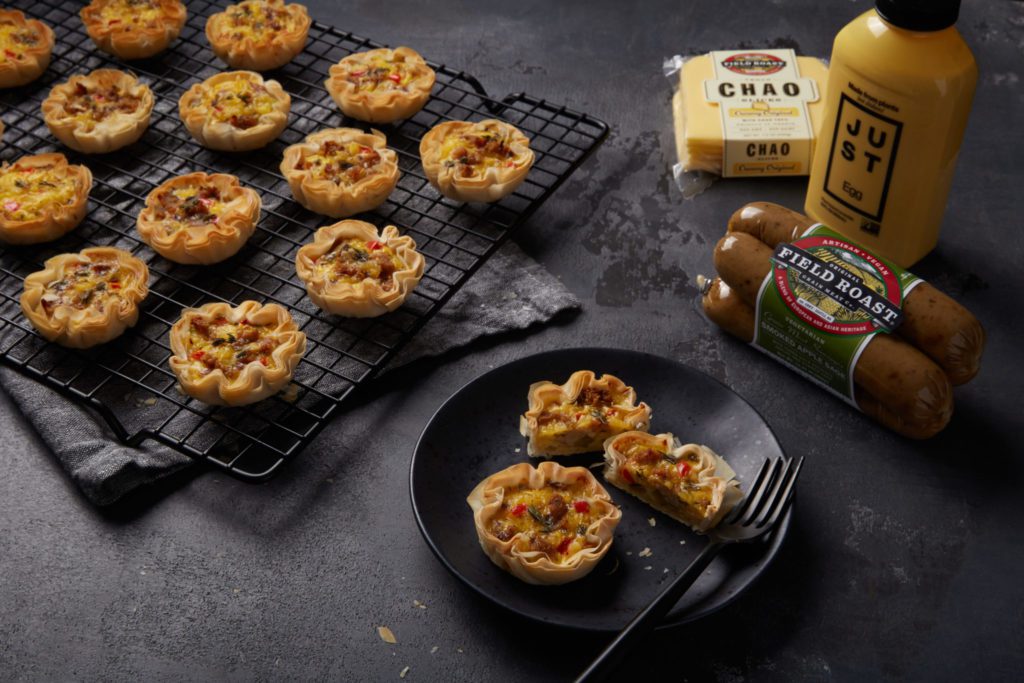 Plant-Based Mini Quiches prepared with Smoked Apple Sage Sausages, Creamy Original Chao and JUST Egg perfect for brunch and entertaining!
Print Recipe
Ingredients
Phyllo or pie dough (optional)
1 12oz bottle JUST Egg
2 Field Roast Smoked Apple Sage Sausages
⅓ cup walnuts, toasted and roughly chopped
⅓ cup celery, sliced thin
⅓ cup yellow onion, diced small
⅓ cup red pepper, diced
½ teaspoon salt
¼ teaspoon freshly ground black pepper
1 teaspoon dried thyme (or 1 tablespoon fresh)
½ teaspoon dried sage
1 cup shredded Chao Creamy Original, divided (non-dairy if preferred)
Directions
1. Heat the oven and toast the walnuts
Preheat oven to 300°F and spray a 12-cup muffin tin thoroughly with nonstick cooking spray. Use the heating oven to toast your walnuts on a dry baking sheet for 10 minutes.
2. Make the crusts (optional)
If you'd like to include a crust, layer 6 sheets of pre-made phyllo dough or roll out a basic pie crust to 1/8-¼ inch thick. Cut the crusts into rounds with a 3 ½ - 4-inch circle cookie cutter and fit them into the muffin tin, crimping the edges to fit. If using phyllo dough, proceed to the next step of the recipe. If using basic pie crust, put a paper or foil muffin tin liner on top of each cup of dough and fill the papers with a few pie weights or dried beans. Partially bake the crusts for 10 minutes, then remove the muffin papers and let them cool briefly before pouring in the quiche mixture.
3. Prepare the filling mixture
Combine the walnuts, celery, onions, salt, pepper, thyme, sage and 3/4 cup the shredded cheese in a medium bowl and mix until evenly distributed. Brown crumbled Apple Sage Sausage in a frying pan and add to mixture. Feel free to swap out any of the filling ingredients.
4. Fill the muffin tins
Fill each muffin cup ½ of the way with filling mixture. Shake the bottle of JUST Egg well, then pour it over the fillings in each muffin cup until just over ¾ of the way full. It will puff up only slightly when baked. Sprinkle the tops evenly with the reserved ¼ cup of shredded cheese.
5. Bake until set
Bake for about 30 minutes, or until set (no longer liquid in the center) and the edges are golden brown. Remove from the oven and let them sit for 5 minutes. Carefully remove the quiches from the muffin tin and serve warm, garnished with chopped walnuts and a sprig of fresh thyme.
Note: If you'd like to make these in a mini muffin pan, reduce the baking time to 18 minutes. If making a full-sized quiche in a pie pan, increase baking time to 45-50 minutes, until the quiche is fully set in the middle; you may want to use a crust protector.