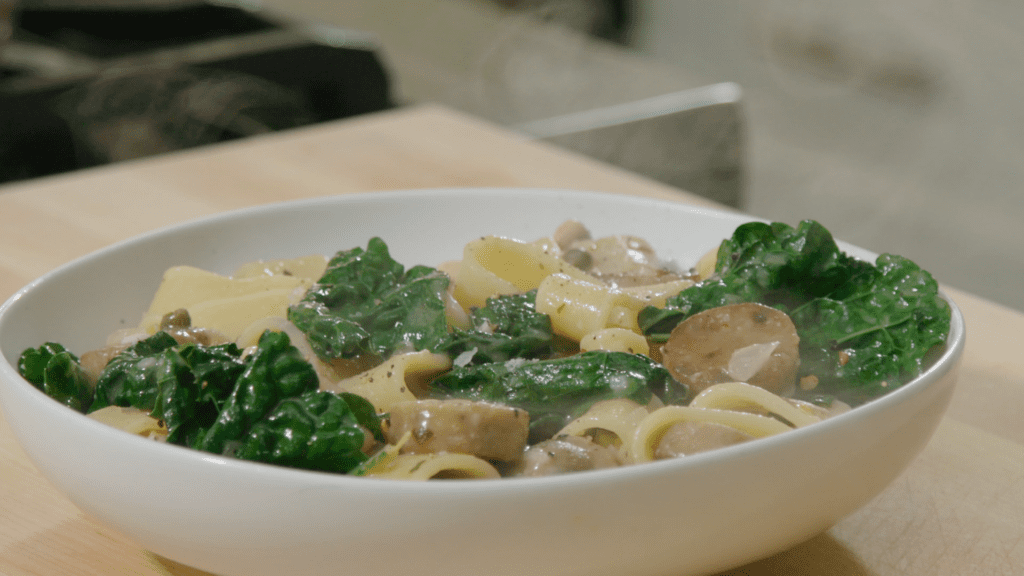 Try this one tonight. Chop up our Smoked Apple Sage Sausage and mix with white beans + kale. Serve over pasta for a flavorful weeknight dinner.
Print Recipe
Ingredients
4 Field Roast Smoked Apple Sage Sausages, cut into ½-inch thick slices
1/4 cup all-purpose flour
1 TB nutritional yeast
1 TB onion granules
400 grams dried Calamarata pasta
¼ cup olive oil, divided
½ white onion, diced
2 cloves garlic, minced
1 cup dry white cooking wine
2 TB capers
1 cup white beans, drained and rinsed
2 cups vegetable stock
zest from half a lemon
1 bunch of Lacinato kale, ribs removed and chopped
Chile flakes, optional
Directions
Place the Field Roast sausage slices into a medium-sized prep bowl. Combine the flour and nutritional yeast, then pour over the sausages and toss to coat.
Cook the Calamarata pasta according to package instructions. Drain and set aside.
Warm half of the olive oil into a large, flat-bottomed, stainless steel saute pan over medium heat. Transfer the sausages to the pan and saute until evenly browned. Transfer to paper towels.
Warm the remaining olive oil in the same saute pan. Add in the onion and garlic and saute until slightly golden. Deglaze the pan with the cooking wine. Add in the capers, white beans, stock, zest, reserved cooked sausage slices, cooked pasta and kale. Stir gently to combine, allowing the kale to slightly wilt.
Note: If your sauce thickens up too quickly and want to extend it, add ½-1 cup of the pasta water.
Transfer to bowls and serve immediately with chilie flakes.
Recipe © Wicked Healthy, LLC