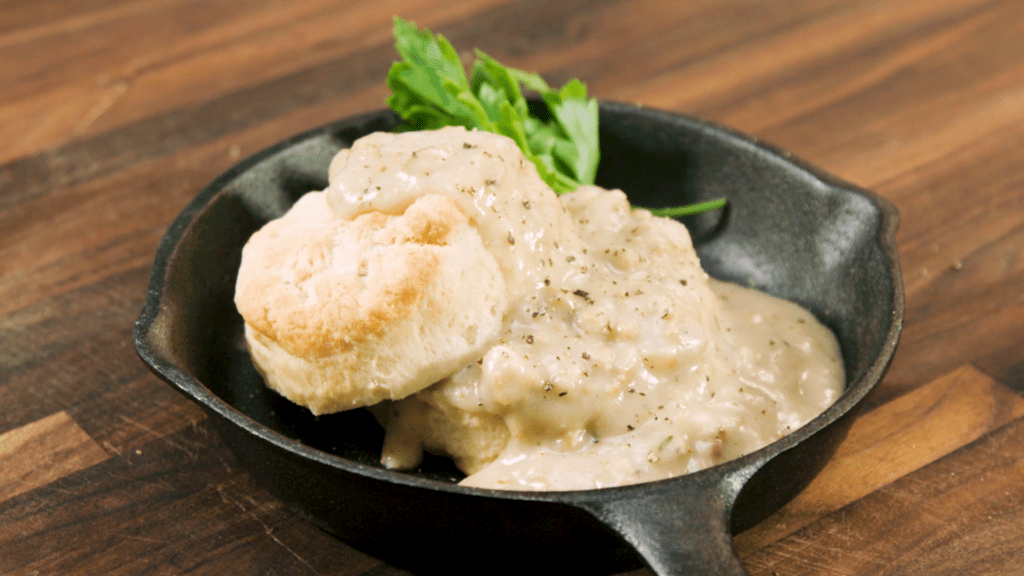 Get your fix of fall comfort with this southern sausage gravy + biscuits featuring our Apple Maple Breakfast Sausage.
Print Recipe
Ingredients
2 TB olive oil
½ cup chopped onion
1 tsp fresh thyme, chopped
One package of Field Roast Apple Maple Breakfast Sausage, chopped
2 1/2 TB plant-based butter
1/3 cup AP flour
1 1/2 cup almond milk, or other non dairy milk, unsweetened and plain
1/2 tsp fresh cracked pepper (or more depending on how peppery you enjoy it)
1 1/2 tsp sea salt
2 tsp freshly grated horseradish
2 fresh-baked vegan biscuits
fresh parsley
Directions
Heat a cast iron saute pan over medium-high heat, add the oil. Place the onion and thyme into the pan and saute until softened stirring, about 3 minutes. Add the chopped sausages and plant-based butter and stir to coat. Lower heat down to medium heat.
Add in the flour, sprinkling evenly over sausages and stir to coat. When the mixture begins to stick, slowly add the almond milk, stirring, or whisking continuously until well combined. Add extra almond milk in as needed. Season with the sea salt, black pepper and fresh horseradish using a microplane zester. Remove from heat.
Spoon the sausage gravy over freshly baked biscuits, garnish with fresh parsley and serve immediately.
Note: it is highly recommended to serve the gravy hot to avoid it thickening up quickly. If reheating leftover gravy, thin out with a touch more of non-dairy milk and adjust seasoning as needed.
Recipe © Wicked Healthy, LLC