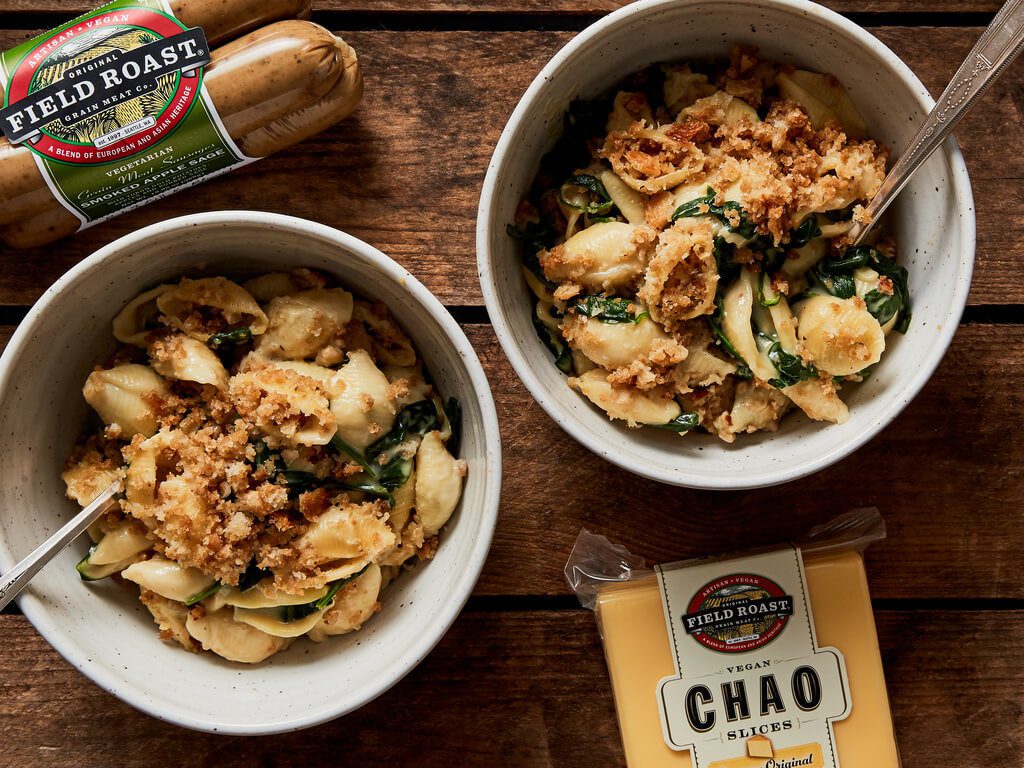 This plant-based mac and cheese recipe combines some amazing flavors to create a gooey, savory meal with greens! Add your Creamy Original Chao Cheese sauce to the mac and cheese, then complimented with a bread-style Field Roast Sausage Crumble.
Print Recipe
Ingredients
For the Mac n Cheese:
4 Creamy Original Chao Cheese, quartered
1 cup unsweetened almond milk
2 cups medium uncooked pasta shells
2 large handfuls baby spinach
1 cup water
Salt to taste
For the sausage crumble:
1 Field Roast Smoked Apple Sage Sausage Link
2 slices bread
1 rounded teaspoon whole grain mustard
1- 2 Tbsp vegan butter
Directions
In a small dutch oven or medium pot, bring the almond milk and water to a boil. Salt to taste and add shells. Reduce to a simmer and cook, uncovered for 8 minutes. Reduce heat to low and add baby spinach, stir until wilted. Add quartered Creamy Original Chao Slices and stir over low heat until melted.
Meanwhile, place the bread slices and Field Roast Sausage in a food processor and pulse until crumbs begin to form. Add the whole grain mustard and pulse a few more times. Add the vegan butter and pulse until pea sized crumbs begin to form.
If using a small dutch oven, sprinkle the sausage crumble directly over the mac n cheese. Place in the oven on the top rack and broil on low for 5-8 minutes, or until golden brown and bubbly.
If using a pot,  transfer the mac n cheese mixture to an oven-safe dish, then sprinkle with sausage crumble and broil on low for 5-8 minutes.
Remove from oven, allow to cool for 3-5 minutes and enjoy!