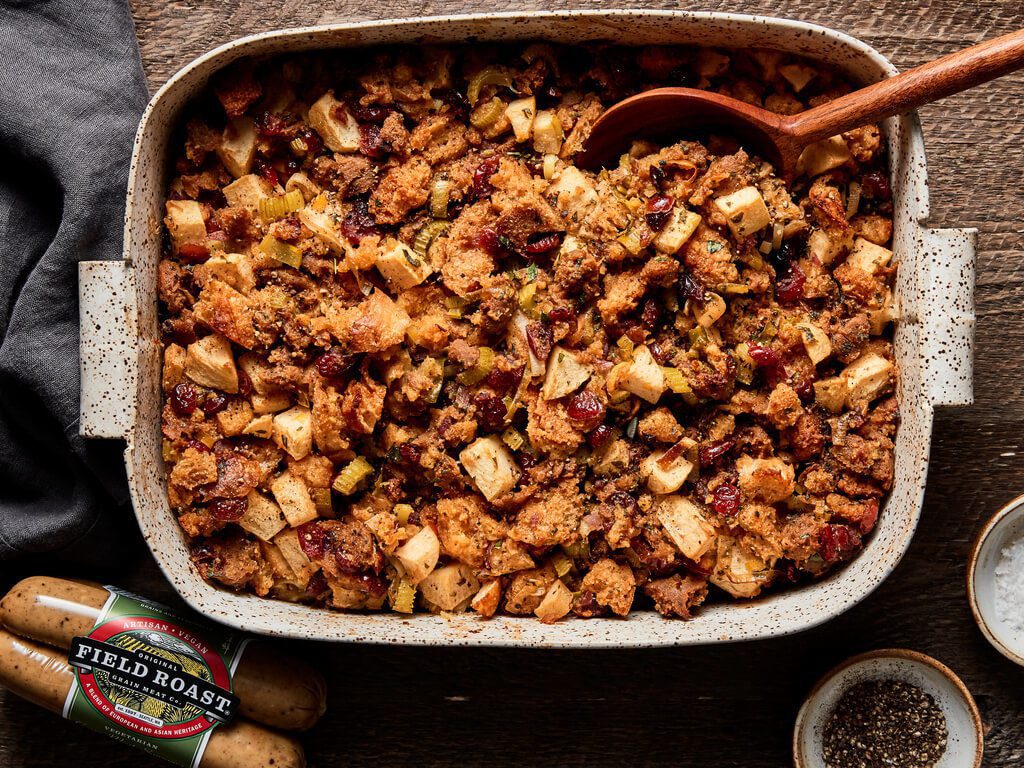 This delicious recipe was created by
Dina Cheney
and featured in her book,
Meatless All Day; Recipes for Inspired Vegetarian Meals
using our Smoked Apple Sage Sausage.
Why limit this tender, flavorful dish to Thanksgiving? Serve it year-round as an entrée. Thanks to [Field Roast] vegetarian grain meat sausage, the dish has a meaty quality sure to satisfy vegetarians and carnivores alike.
Print Recipe
Ingredients
4 cups 1⁄2-inch cubes (Vegan) cornbread
4 cups 1⁄2-inch cubes  (Vegan) sourdough bread
6 TBS Vegan butter, divided
Scant 2 cups 1⁄4-inch-thick half-moons Velery
Scant 11⁄2 cups Thinly sliced leeks
1⁄2 cup Finely chopped red onions
21⁄2 tsp Minced garlic
3 cups 1⁄2-inch cubes Peeled and cored Granny Smith apples
4 Smoked Apple Sage Field Roast Sausages, crumbled
3 TBS Minced fresh sage leaves
1 TBS Minced fresh rosemary
1⁄2 cup Sweetened dried cranberries
2 cups Reduced-sodium vegetable broth
1⁄3 cup Finely chopped fresh flat-leaf parsley leaves
1/4 cup Egg substitute (equivalent to 2 eggs)
1 tsp Coarse salt
8 grinds Black pepper
Directions
Heat the oven to 375°F. Pour the cornbread and sourdough cubes onto a baking sheet with sides. Once the oven is hot, toast until golden brown and dried out, about 20 minutes. Remove from the oven and set aside (leave the oven on).
Meanwhile, heat 2 tablespoons vegan butter in a 12-inch, heavy, nonstick sauté pan (with 2- to 3-inch-high sides) over medium-high heat. Once the butter is melted, add the celery, leeks, red onions, and garlic, and sauté until softened, about 8 minutes. Add the apples and crumbled sausage and simmer, stirring occasionally and breaking up the sausage with a wooden spoon, until the apples are tender, about 6 minutes. Remove from the heat.
Meanwhile, melt the remaining 4 tablespoons vegan butter over medium heat in a small, heavy frying pan. Once it is melted, let it bubble for a minute, and then stir in the fresh sage and rosemary leaves. Let bubble for 1 minute, until the butter turns very light golden, and then remove from the heat and set aside. Meanwhile, place the cranberries in a small bowl, cover with very hot water, and let sit to soften, 10 to 15 minutes. Drain.
In a large bowl, combine the cranberries, bread cubes, vegetable-apple-sausage mixture, vegan butter (scrape it out of the pan), vegetable broth, parsley, egg substitute, salt, and pepper, using tongs to mix gently but well. Spray the entire inside of a 9 x 13 x 2-inch glass baking dish with cooking spray. Pour the stuffing mixture inside and spread evenly,
flattening it down.
Cover with aluminum foil and bake for 40 minutes. Uncover and cook for another 20 minutes, until golden brown on top and tender and fluffy inside. Serve.
Serving Suggestions: Pair with braised winter greens. For dessert, serve pumpkin pie or a cranberry tart.
Try This: If you prefer your stuffing more savory than sweet, use all sourdough and no cornbread. Substitute sautéed mushrooms and Field Roast Italian Sausage for the dried cranberries.