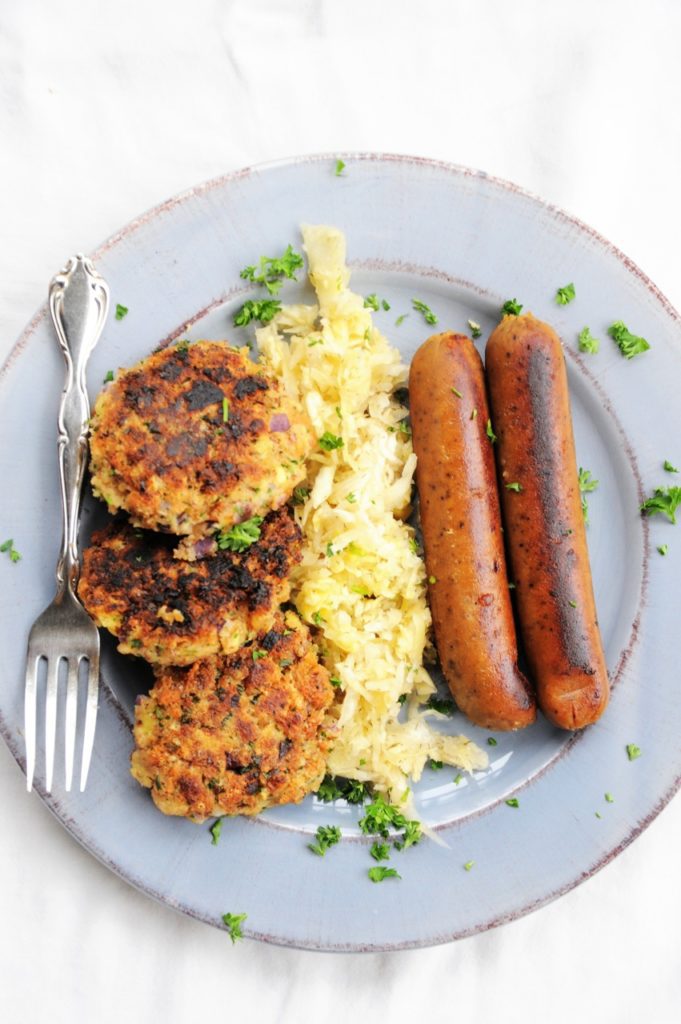 This traditional Austrian Kaspressknödel, made by Daniela Lais, is a cheesy roasted dumplings dish featuring Field Roast Smoked Apple Sage Sausages, Creamy Original Chao Slices and sauerkraut.
Print Recipe
Ingredients
8 oz Croutons/stuffing
1 cup Soy milk
1 Red onion, small, finely chopped
5 tbsp Parsley, finely chopped
3 tbsp Flaxseed, grounded
7 oz Creamy Original Chao Slices, grated or finely chopped
1 tsp Salt
½ tsp Freshly ground pepper
Olive oil
1 Package of Field Roast Smoked Apple Sage Sausages
Sauerkraut
Directions
For the dumplings, put the croutons/stuffing in a bowl with warm soy milk and flax seed and let it sit for 10-15 minutes. The amount of soy milk you need depends on the croutons/stuffing, don't use too much, it should be a firm dough. Heat up some olive oil in a nonstick pan and sauté the finely chopped red onion until it's golden brown. Fold the onion and croutons together with the grated Chao Slices, salt, pepper, and parsley in a bowl. Knead everything to a firm dough which sticks together pretty well. Then form about six dumplings. Heat a good amount of olive oil in a nonstick pan and sauté the dumplings from both sides. Grill the sausages until heated through and serve the dumplings, sauerkraut, and sausages. They are delicious!
In Austria, we call these roasted cheese dumplings, "Kaspressknödel," which means flat cheese dumplings! We often serve it in soups and you can do this as well!