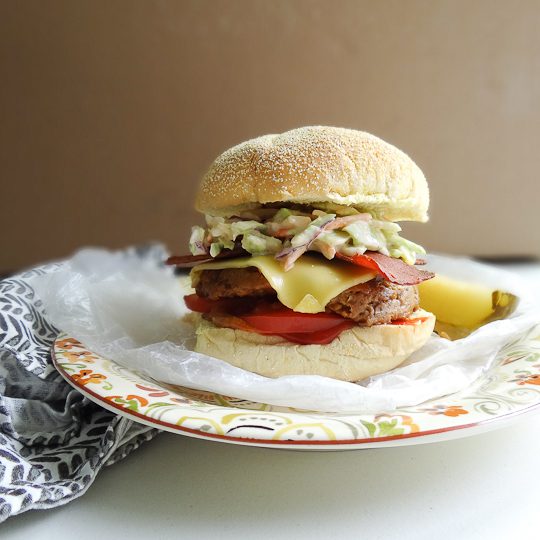 Combine some of your favorite things into one masterpiece to devour.
Heather Poire
created this FieldBurger with melted Chao Cheese, bacon and coleslaw, great for grilling season or year-round burger lovin.
Print Recipe
Ingredients
For the slaw:
2 cups pre shredded coleslaw mix
⅓ cup vegan mayonnaise
1 tsp apple cider vinegar
1 tsp pure maple syrup
sriracha to taste
sea salt to taste
For the burgers:
2 Field Roast Burgers
4 Strips Vegan Bacon
2 Slices Creamy Original Chao Slices
2 Seeded Buns (toasted if desired)
4 Slices tomato
Ketchup & spicy mustard to taste
Directions
In a medium bowl, combine all ingredients for the slaw and mix until well combined. Cover and place in fridge until ready to use.
In a frying pan over medium high heat, fry the burgers until golden brown (about 3-4 minutes per side). Or grill the burgers! Place 1 slice of Chao on each burger. Cover and reduce heat to low for an additional 3-4 minutes.
Meanwhile, cook vegan bacon according to package. If desired, spread vegan butter on the burger buns and toast (oven, grill or pan) until golden brown.
Dress the bottom of your burger bun with ketchup & mustard and layer with sliced tomatoes. Place the Chao Cheeseburger on the bun, top with vegan bacon slices and slaw. Complete with the other half of the bun & enjoy!