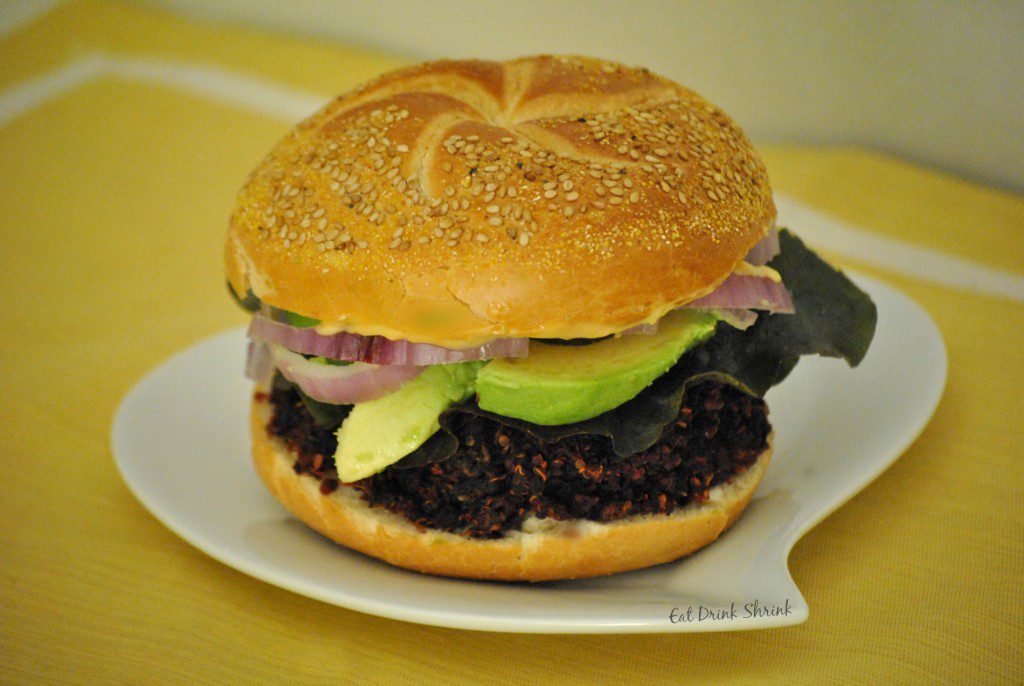 This recipe was submitted for the #CooksInTheField2015 Recipe Contest by Gabrielle St. Claire from New York City. Check out her website at
Eat.Drink.Shrink
!
Print Recipe
Ingredients
1/2 cup cooked quinoa
1 large red onion
2 cloves garlic minced
1 Tbsp vinegar (optional)
Himalayan sea salt as desired
1 cup mushrooms
1 can black beans
3 raw beets
2 tsp cumin
2 tsp chili powder
2 tsp paprika
4 dates
1 Tbsp parsley
2 Tbsp oats
Creamy Original Chao Slices
Green Leaf Lettuce
Avocado
French Roll
Directions
Cook quinoa in advance or simply throw in a pot of boiling water and cook according to directions.
Preheat the oven for 375 degrees.
Wash, peel, and cut beets into sections. Wrap in aluminum foil and place in the oven, baking for 30-45 minutes.
In a medium pan, cook the garlic and olive oil for a few minutes until fragrant, then add the onion and cook until clear, then add the chopped mushrooms and cook until softened. Add the seasonings and a few drops of vinegar.
Place the black beans in a strainer, rinse and mix into a bowl with quinoa, mushrooms, onions, and garlic.
Pulse the oats in a food processor until a flour and set aside.
Once the beets are soft, remove from oven, let cool, then place in the food processor. Pulse a few times until texture is good. Add 4 soft dates to the food processor with the beets and pulse until combined.
Add mixture to the bowl of other ingredients and mix together with hands. Add the oats in increments, then press the ingredients into patties and place on a baking sheet to bake for 15-20 minutes. Add a slice of Chao Cheese until melted.
Arrange the burgers with bun, sriracha mayo, beet patty and cheese, avocado and lettuce. Enjoy!