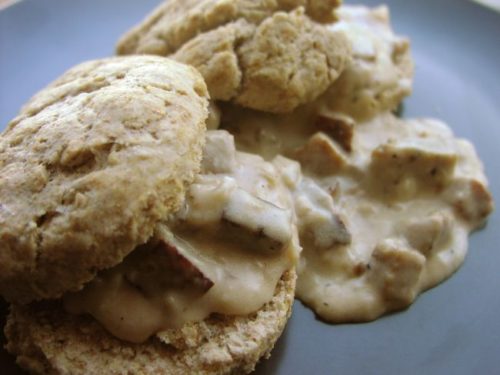 Kick the day off with a plate of biscuits and gravy, breakfast comfort food. Using Field Roast Lentil Sage Deli Slices or a Field Roast Lentil Sage Quarter Loaf, you can make a nice meaty gravy to drizzle over freshly made biscuits hot from the oven. The gravy is also great atop mashed potatoes in case you have leftovers for dinner!
Ingredients
Gravy:
1 lb Lentil Sage Deli Slices or Quarter Loaf, diced
½ cup Yellow onion, diced
2 TBS Unbleached white flour
6 TBS Vegetable oil
2 cups Unsweetened, unflavored vegan soy/almond/coconut milk
¼ tsp Salt
¼ tsp Black pepper
2 TBS Black coffee
2 Bay leaves
Biscuits:
1 cup Whole wheat flour
1 cup White flour
1 TBS Baking powder
½ tsp Salt
¼ cup Earth Balance, cold
¾ cup Unsweetened, unflavored vegan soy/almond/coconut milk
Preparations
For Gravy:
Over low heat, sauté the diced Lentil Sage Field Roast in 2 tablespoons of oil until lightly browned. Remove from the pan and set aside.
Add 2 tablespoons more of oil to the pan and sauté the onions until transparent, but not browned, 5-7 minutes over low heat. Add the final 2 tablespoons of oil and the flour to the pan and lightly cook the floor for 5 minutes, stirring frequently.
Whisk in the unsweetened vegan milk and bring to a simmer. Season with salt, black pepper, bay leaf, and coffee.
Allow to simmer for 5 minutes. If the gravy gets too thick, add a little more milk to thin it back out.
Stir in the browned Field Roast and simmer for five additional minutes. Remove bay leaf. Serve over biscuits!
For Biscuits:
Preheat oven to 450°F.
Mix flour, baking powder, and salt in a large mixing bowl. Cut cold Earth Balance into the flour mixture with 2 knives or a pastry cutter. When Earth Balance is the size of small pebbles, add the vegan milk and mix into the flour/Earth Balance mixture until all the liquid is absorbed the ingredients all come together.
On a floured surface, roll out the dough to a ¾'' thickness. Cut into a biscuit shape using a biscuit cutter of a tin can. Place on a sheet pan lined with parchment paper. Lightly brush the surface of the biscuits with vegan milk. Place into the heated oven and bake for 12 minutes. Remove the pan from the oven and place the biscuits on a cooling rack to for 5 minutes before slicing.
Slice and cover with Field Roast Lentil Sage gravy. Garnish with fresh herbs such as chopped chives or parsley. A light dusting of paprika can also add a nice little touch of color.