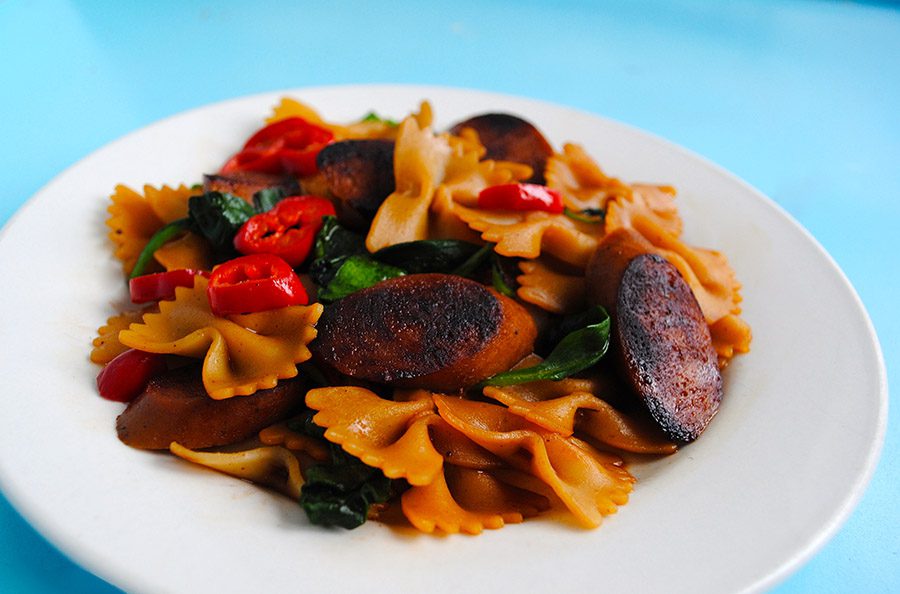 Put a classy twist the old pasta & hot dog recipe for adults and children to enjoy together! -Cooks in the Field 
Healthy Homemaker
 Sarah Creighton
Print Recipe
Ingredients
3/4 lb Bowtie pasta
1 tsp Coconut or canola oil
2 TBS Extra virgin olive oil
1 TBS Red wine vinegar
3 TBS Soy sauce (or more to taste)
1/2 tsp Chili powder
4 Field Roast Frankfurters, sliced diagonally 1/4" thick
5-6 Red baby bell peppers, thinly sliced
2-3 Large handfuls fresh baby spinach
1/2 tsp Sea salt (or to taste)
Directions
Cook pasta according to package directions.
Meanwhile, in a small bowl whisk together olive oil, red wine vinegar, soy sauce and chili powder.
Heat oil over medium heat in a large sauté pan.  Add in sliced Frankfurters and cook, stirring occasionally, until slightly browned on both sides.
Drizzle in soy sauce mixture and stir well to coat.  Toss in bell peppers.
Once pasta is cooked, drain and add directly to the Frankfurters in the sauté pan.  Turn off heat.  Stir in spinach and toss everything until spinach is wilted and pasta is well coated.  Sprinkle with salt.