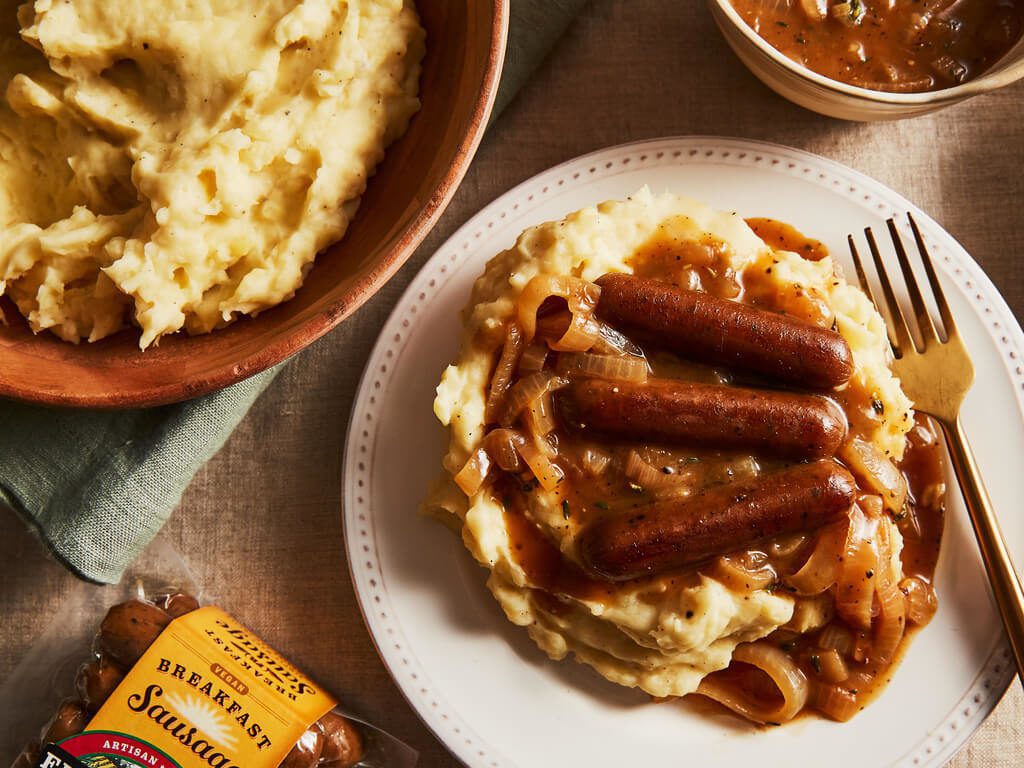 The savory-sweet nature of Apple Maple Breakfast Sausages inspired
Jo

y Martin
, our
Cooks in the Field
Urban Foodie, to take classic "Bangers and Mash" from English Pub to breakfast table! This unconventional breakfast pairs cider-infused mashed potatoes and onion gravy with pan-fried sausages for a comforting meal that's perfectly at home on crisp mornings. Tip: For the best flavor, be sure to use a cloudy apple cider, not clear apple juice.
Print Recipe
Ingredients
For Apple Maple Bangers:
1 tsp Oil
1 package Field Roast Apple Maple Breakfast Sausages
For Cider Potato Mash:
2 lbs Yukon Gold potatoes, peeled and chopped into 1/2-inch chunks
1 cup plus 1 TBS Cloudy apple cider, divided
Water
1 TBS Kosher salt
3/4 cup Plain non-dairy milk
2 TBS Vegan butter
For Cider Onion Gravy:
1 TBS Vegan butter
1 Large onion, quartered and thinly sliced (about 12 oz)
1 tsp Chopped fresh thyme leaves (about 1 sprig)
1/2 cup Cloudy apple cider
1 cup Vegetable broth
2 tsp Cornstarch
Salt and pepper to taste
Directions
Prepare the gravy:
Bring a large skillet over medium/medium-high heat and add the non-dairy butter once the pan is hot.
Add the onions, season with salt and pepper, and cook, stirring occasionally, until the onions are mostly soft and deeply-golden (about 8-10 minutes). Add chopped thyme and apple cider, scraping the bottom of the pan to loosen any browned bits, then reduce heat to medium-low and continue cooking until the onions are completely soft and caramelized (about 8-10 minutes).
Whisk together the vegetable broth and cornstarch until cornstarch is dissolved, then add to the onions.
Cook, stirring occasionally, for a few minutes until the mixture has thickened into a gravy. Taste for seasoning, adding salt and pepper as needed, then remove from heat and keep covered until ready to serve. If desired, gravy can be made a day or two ahead of time – the flavors are actually better after having time to marry! Simply cool gravy, store in the refrigerator, then reheat, adding a bit of water if gravy has become too thick.
Make the Cider Potato Mash:
Put the chopped potatoes in a medium pot, adding 1 cup cider and enough cold water to cover potatoes by about an inch. Add 1 tablespoon kosher salt (don't worry, the water will be salty but the potatoes will be perfectly seasoned) and bring to a boil.
Once water is boiling, reduce heat to low and simmer potatoes for 15-20 minutes until tender – a fork should easily pierce a chunk of potato. When potatoes are done, remove from heat and drain in a colander.
In a small microwave-safe bowl, combine the milk and remaining tablespoon of apple cider. Heat briefly in microwave until warm.
In a large bowl, add the drained hot potatoes and butter. Pour in the warm milk a bit at a time, using a potato masher (for a rustic mash) or a hand blender (for a smoother mash) to mash the potatoes to the desired consistency. You might not use all the milk, or you might need a few extra splashes.
Once potatoes are mashed, taste for seasoning, adding salt and pepper as desired. Serve as soon as possible. If reheating is necessary, place over a double boiler or microwave briefly.
Cook the Apple Maple Bangers:
Bring a skillet over medium heat and add oil. Once oil is shimmering, add sausages and cook for 1-2 minutes undisturbed before turning to cook all sides. Once sausages are golden brown and hot to the center, remove from heat and serve. Avoid overcooking!
To serve:
For each serving of Breakfast Bangers and Mash, place a generous scoop of Cider Potato Mash and 3 Apple Maple Bangers onto a plate. Ladle Cider Onion Gravy over the mash and bangers. Serve hot!