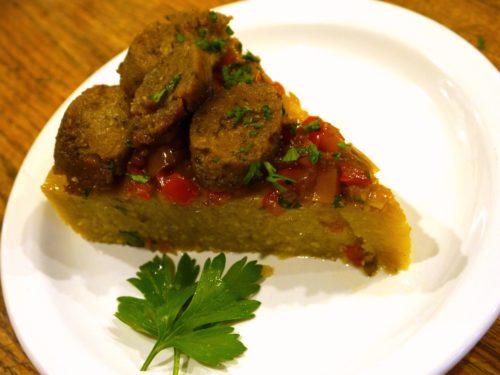 Breakfast Polenta with Sausage, Onion and Peppers
Ingredients
3 Field Roast Smoked Apple Sage Sausages, casings removed and sliced
3/4 cup Onion, diced
1 ea Yellow bell pepper, diced
2 ea Red bell pepper, diced
2 sprigs Fresh oregano or fresh  herb of choice
3 1/2 cups Vegetable stock
1 cup Polenta
1/2 cup Vegan Parmesan cheese, grated
4 RBS (1/2 stick) Vegan butter
2 TBS Apple cider vinegar
1 TBS Sugar (optional)
1 TBS Olive oil
1/4 cup Parsley, minced
Preparations
In a saucepan, bring vegetable stock and vegan butter to boil. Stir in polenta, and reduce heat to low. Stirring occasionally, allow polenta to cook until tender and liquid is absorbed. Salt to taste and add additional liquid if needed.
When polenta is done, remove from heat, and stir in fresh oregano. Pour polenta into a greased pan (use a 6 inch removable bottom pan for easy plating after adding the toppings) and allow to cool for one hour.
In a skillet over medium-low heat, add onion, peppers, sugar (if using), oil, and vinegar. Allow to cook down until liquid is absorbed and peppers are tender and sweet, but not mushy. Remove from heat, and allow to cool.
Over medium heat, brown sliced sausages in oil, 4-5 minutes. Top entire polenta torte with pepper mixture and then sliced sausages.  Garnish with minced parsley. If you have used a removable bottom pan, plate the torte.