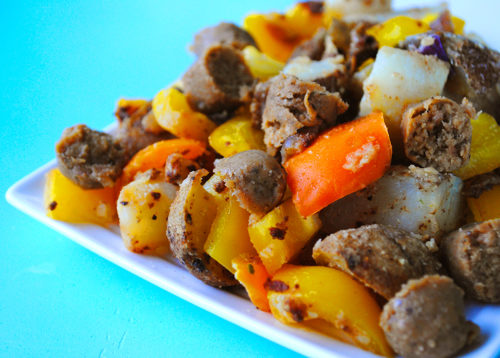 Breakfast Potatoes with Apple Maple Sausage
This morning recipe from Cooks in the Field Healthy Homemaker Sarah Creighton is quick and delicious, capturing the mixture of flavors and textures from our Apple Maple Breakfast Sausages and fresh vegetables.
Ingredients
2 Medium potatoes
1 Medium white onion
1 Bell pepper, your choice of color
2 small cloves Garlic , finely chopped
1/2-3/4 tsp Sea salt, to taste
1/2 tsp Ground black pepper
2 tsp Nutritional yeast
1/2-1 tsp Hot sauce, depending on desired heat level
6-8 Field Roast Breakfast Maple Sausage links, cut into bite-sized chunks
Preparations
Scrub and prick potatoes, then place in microwave for about 5 minutes or until just soft-not cooked through.
Heat oil in large sauté pan over medium-high heat.
Chop onion, bell peppers and sausages into bite size pieces. Cut potatoes when they are done in the microwave.
Add onions, peppers and potatoes to the sauté pan. Add pepper, salt, nutritional yeast, garlic,  and hot sauce.
Stir in cut up sausage links, cooking and stirring until potatoes get brown and crunchy like hash browns.
Serve warm!
Optional: Place in the center of a tortilla and wrap it up!