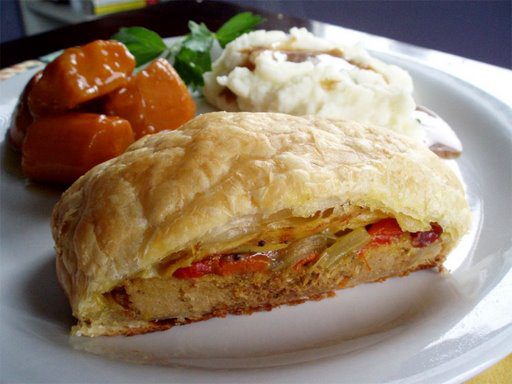 A traditional European puff pastry stuffed with our Celebration Roast and a seasoned mélange of carrots, celery and red bell peppers with curry and a combination of cranberry sauce and chutney. Great for an impressive main course or with a nice pint of ale.
Print Recipe
Ingredients
1 lb Celebration Roast
1 Puff pastry sheet
1/3 cup Celery, julienned
1/3 cup Carrots, julienned
1/3 cup Red bell pepper, seeded and julienned
1 T Oil
1/2 tsp Curry powder
2 TBS Whole berry cranberry sauce
2 TBS Chutney (Cross and Blackwell's)
Salt, to taste
Directions
Thaw out puff pastry sheet if frozen.
Prepare mélange. Sauté celery, carrots and red bell peppers with oil in small frying pan on medium heat. Add a pinch of salt. Turn heat down to low and cover, cook slowly for at least 15 minutes until vegetables are soft and wilted, stir occasionally. Add curry powder and cook for another 2 minutes. Add cranberry sauce and chutney, stir and take off heat. Let cool.
Preheat oven to 350°F. Prepare puff pastry. Smooth rough edges and folds using a little water and your fingers. Be careful not to overwork dough. Cut puff pastry sheet into a 7"x6" rectangle. Place 1/3 of the mélange in a pile in the middle of the pastry. Place a thick slice of Celebration Roast on top of the vegetable mixture. Fold the edges of the puff pastry towards the center and seal by pinching with your fingers and using water as needed.
Turn pasty onto baking sheet so that the side with the folds becomes the bottom. Bake for 30 minutes or until golden brown.