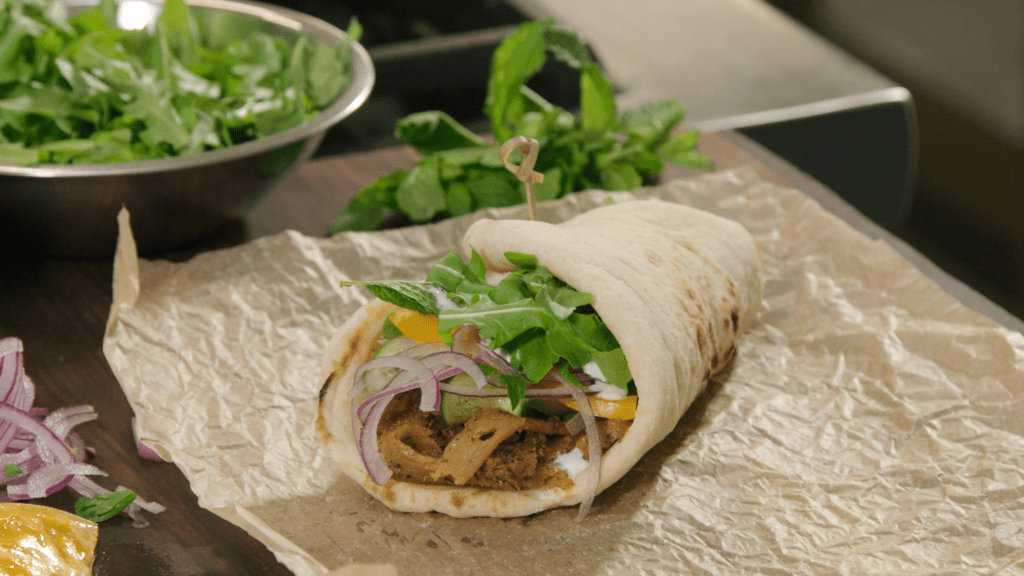 Bet you didn't know our Celebration Roast is so versatile. Try it in this hearty Middle Eastern dish for a little spice in your life!
Print Recipe
Ingredients
for the sauce
1 cup dairy-free yogurt
1 tsp lemon zest
1 clove garlic, grated
1 TB chopped mint
1 TB chopped parsley
a couple pinches of sea salt
a few dashes of fresh cracked pepper
for the filling
2 1/2 TB olive oil
Field Roast Celebration Roast, sliced in rounds then julienned into strips
1 tsp onion granules
1 tsp hot paprika
1 tsp cumin
1 tsp garlic granules
1 tsp dried oregano
4 pieces of pita bread
1 small cucumber, sliced lengthwise
1 yellow tomato, sliced
half of a small red onion, mandolined
handful each of fresh mint and parsley
2 cups fresh arugula
Directions
Place the dairy-free yogurt into a small bowl. Add the lemon zest, garlic, mint, parsley, sea salt and pepper and stir to combine.
In a cast iron pan over medium-high heat add the oil followed by the shaved roast. Allow to pan fry and get slightly crispy around the edges. Add the seasoning of onion granules, paprika, cumin, garlic granules and oregano. Toss to combine. Continue pan frying for 2-3 minutes. Remove from heat.
To assemble, place a pita onto a flat surface. Spoon some of the sauce into the center of the pita, then top with some of the Field Roast, followed with some shaved cucumber, yellow tomato, red onion, mint and parsley, more sauce and fresh arugula. Pull the edges up and secure with a toothpick. Serve immediately.
Recipe © Wicked Healthy, LLC