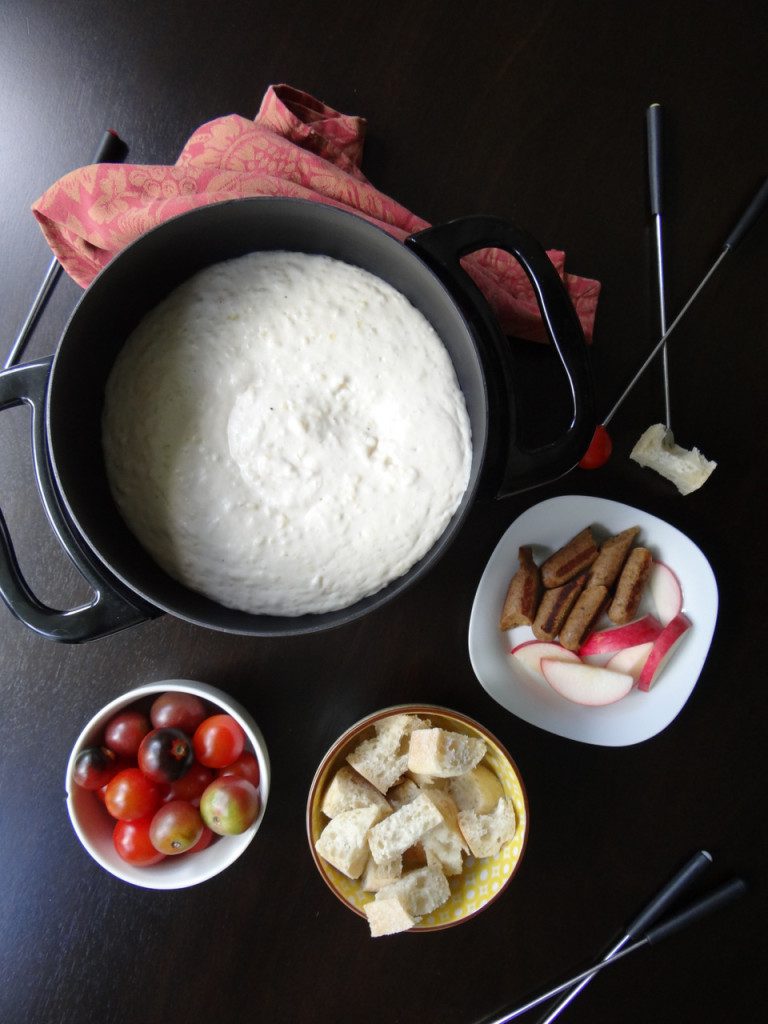 It can be hard to find a recipe for vegan fondue that's worth a taste, but you have finally found the one! This creamy Chao cheese fondue is worth dipping all of your favorite snacks into. Make this for friends, date night, game day or a night in and thank
Heather Poire
for a recipe that you will come back to.
Print Recipe
Ingredients
For the fondue:
1 tbsp olive oil
1 medium shallot finely chopped
3 tbsp dry sherry
1 cup vegan creamer or non dairy milk
4oz vegan cream cheese - cut into 1 inch cubes
1 ½ cups grated Creamy Original Chao Slices
1 cup grated Coconut Herb Chao Slices
1 tsp fresh lemon juice
For the dippers:
Cherry tomatoes
Field Roast Apple Maple Breakfast Sausage
Ciabatta Bread, cubed
Sliced Apples
Directions
*Shred the Chao Slices by removing the stack from the packing and grating along the sides.
In a sauce pan over medium heat, add 1 tbsp olive oil and chopped shallots. Saute shallots for 2-3 minutes. Add sherry and allow to almost evaporate, about 2 minutes. Add vegan creamer or non dairy milk and reduce heat to low. Add cubed vegan cream cheese to the pan and allow to slowly melt. Add shredded Chao cheese and stir until cheese fully melts. Stir in lemon juice.
Transfer to a heated fondue pot or place the pan on an elevated metal rack with a sterno or candle placed under the pan.
Serve with suggested dippers! If you do  not have a fondue set, simply use long bamboo skewers for dipping. Enjoy!