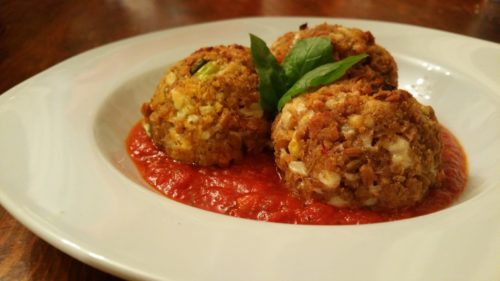 Chao Cheesy Sausage Balls
This recipe was submitted in the #CooksInTheField2015 Recipe Contest by Michelle St. Onge from Morrisville, North Carolina.
Ingredients
1 Package Field Roast Italian Sausage
1 Cup Vegan Panko Breadcrumbs
1 Package Chao Cheese Creamy Original, diced finely
1/2 Cup diced Green Onions (white and green parts)
1 Tbsp Extra Virgin Olive Oil
2 Tbsp (1/8 cup) Ground Flax Seed
6 Tbsp (3/8 cup) warm Water
1/8 Cup almond milk (optional)
Salt to taste
Preparations
Preheat oven to 400 degrees F.
In a small, separate mixing bowl add 2 Tbsp of ground flax seed and stir in 6 Tbsp of lukewarm water to make flax egg replacer. Let the flax seed mixture sit for 10 minutes until it is a lightly thickened gel consistency.
While the flax mixture is resting slice all four sausages and put them into a food processor. Then gently pulse the sausages until they are evenly ground into small pieces.
In a large mixing bowl add the ground sausage and mix in 1 cup of panko breadcrumbs. Sprinkle a pinch of salt then add all of the finely diced Chao cheese, 1 Tbsp of olive oil and 1/2 cup of green onions to the sausage mixture. Mix well.
Once the flax egg replacer has thickened, stir it and add it to the sausage mixture. Gently fold the mixture until it is completely moistened. If the mixture seems too dry for your liking, add the optional 1/8 cup of almond milk and mix.
Firmly form the mixture into 1 inch to 1 1/2 inch balls, place them on a large nonstick baking pan, and cook for 25 minutes. Take out of the oven and let rest for 5 minutes so they can easily be removed from the pan. Serve with your favorite sauce and pasta. Enjoy!