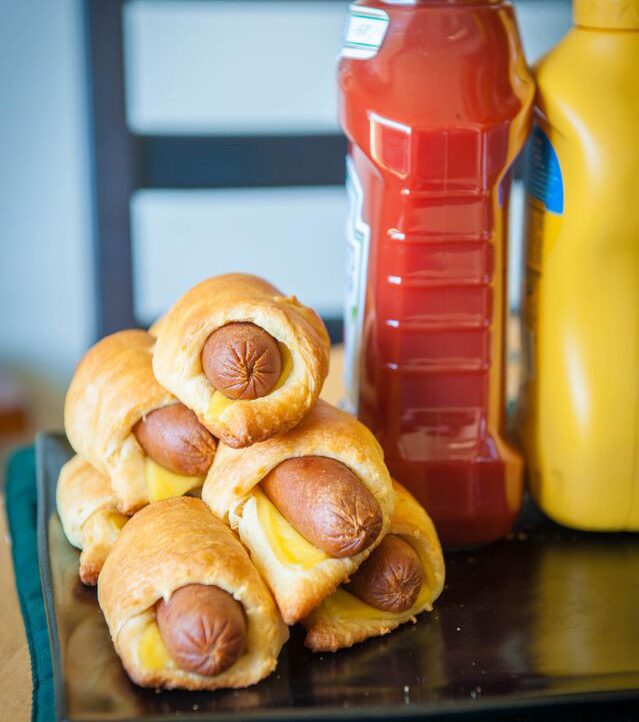 Quite possibly the easiest and most delicious Game Day recipe to please any type of eater! This vegan version of "Pigs in a blanket" use a delicious Field Roast Frankfurter and creamy, melted vegan cheese. Make right before the game and enjoy while hot! Recipe by
Chuck Pepper Jr.
Print Recipe
Ingredients
4 Field Roast Frankfurters
4 slices Creamy Original Chao Slices
1 package vegan crescent rolls
Oil for cooking (olive or coconut)
Ketchup and mustard for dipping
Directions
Preheat oven to 375.  Heat a tablespoon or so of oil over medium heat in a small skillet.  When the oil is hot, place frankfurters in the skillet and cook for about 5 minutes, turning frequently until the sausages are warm.
While the Frankfurters cook, cut your Chao Slices in half, diagonally.  Pop open the crescent roll dough and lay it on a cutting board.  Separate the crescent roll dough into triangles along the perforations. Place the halved Chao Slices on each crescent roll triangle, so the shapes match.
Cut the Frankfurters in half so they match the length of the crescent roll.  Places the Frankfurters on the long edge of each crescent roll, on top of the cheese and roll the crescent roll over it, towards the point of the triangle. Place them on a baking sheet, ready for the oven.
Cook for 12-15 minutes, until they are golden brown.
Serve with ketchup, mustard or your favorite dipping sauces!