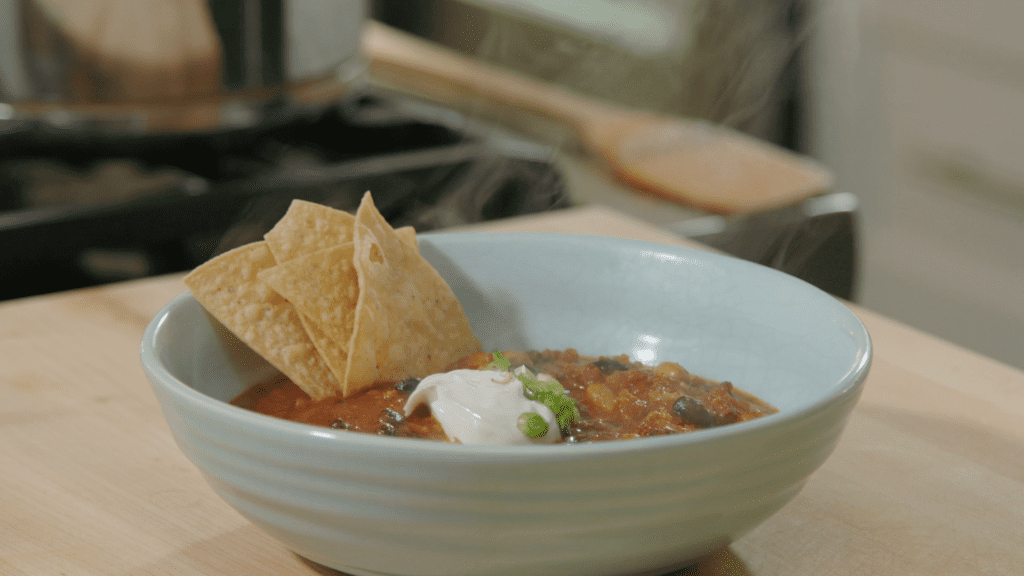 Turn up the heat by crumbling our Mexican Chipotle Sausage into this quick yet stunning Chili Con Carne. Ideal for entertaining or a relaxing night in.
Print Recipe
Ingredients
INGREDIENTS
4 Field Roast Mexican Chipotle Sausages, halved and roughly chopped
¼ white onion, diced
2 TB olive oil
1 TB cumin
1 TB chili powder
16 oz. can of pinto beans, drained and rinsed
16 oz. can of black beans, drained and rinsed
28 oz. can of crushed tomatoes
2 cups water
1 TB chipotle peppers, roughly chopped
2 TB pickled jalapeño juice
1 ½ tsp sea salt
for serving
plant-based sour cream
tortilla chips
chopped scallions
Directions
METHOD
Place the chopped Field Roast sausages into a food processor, pulsing several times until finely ground.

Warm a large saucepan over medium heat and add the oil. Add in the onions, cumin and chili powders and saute, stirring frequently, until the onions have caramelized and the spices are aromatic. Add in the ground Field Roast Sausage and the rest of the ingredients. Bring to a simmer, and reduce the heat to low-medium stirring occasionally until slightly thickened. The chili will be done in about 15 minutes after turned down from a simmer.
Transfer to a bowl and serve with plant-based sour cream, chopped scallions and tortilla chips. Alternatively, serve with Field Roast Frankfurters for Chili Cheese Dogs.
Recipe © Wicked Healthy, LLC