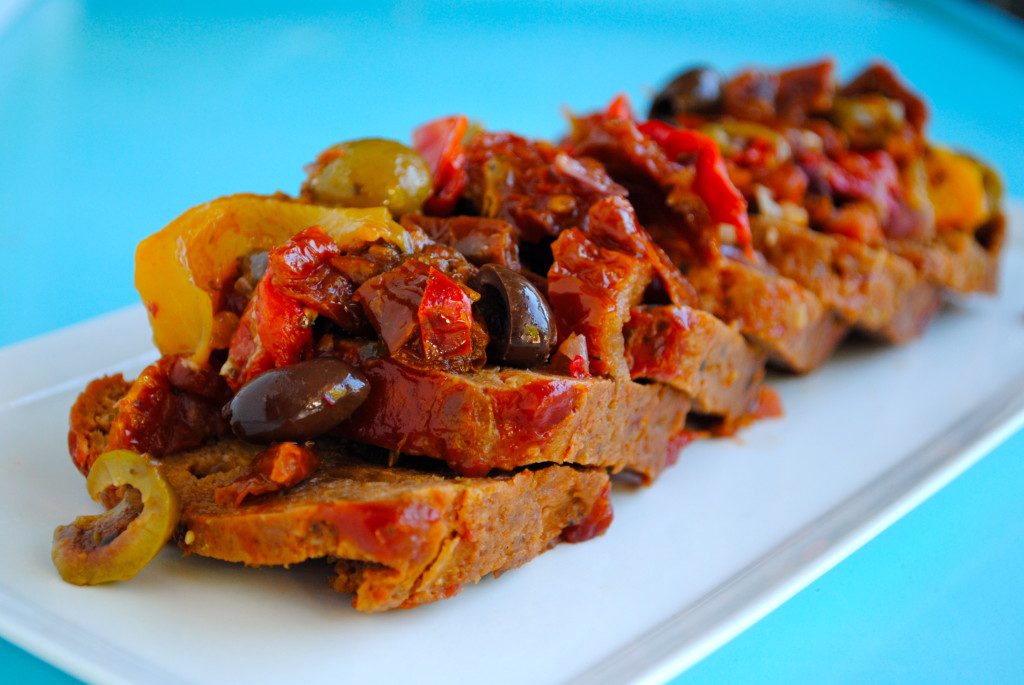 This dish by
Cooks in the Field
Healthy Homemaker,
Sarah Creighton
, combines Field Roast Classic Meatloaf with the Mediterranean flavors of peppers, sun-dried tomatoes and olives to create a homey and satisfying main course.
Print Recipe
Ingredients
1 ea Field Roast Classic Meatloaf
1 (~8 oz.) jar Sun-dried tomatoes packed in oil, drained (reserve the oil) and chopped
1 TBS Extra virgin olive oil
3/4 cup Yellow onion, diced
1 Yellow bell pepper, diced
1 cup Green olives, pitted and roughly chopped
1 clove Garlic, minced
1/4 cup Balsamic vinegar
1 cup Water
1/2 cup Vegetable broth
Directions
Preheat oven to 350°F. Spray sheet pan with non-stick spray and bake Classic Meatloaf for 25 minutes.
Meanwhile, heat olive oil in medium saucepan over medium heat. Add 1½ tablespoons of the reserved sun-dried tomato oil, onion, pepper, olives and garlic. Stir and cook about 5 to 7 minutes, or until the onions are soft. Add the sun-dried tomatoes, balsamic vinegar, water, vegetable broth and agave (to taste). Bring the liquid to a boil, reduce the heat, and simmer, covered, for 20 minutes.
Remove the Classic Meatloaf from the oven, cover with foil and set aside. Uncover pepper mixture and continue simmering until most of the liquid is reduced and the mixture is the consistency of jam, about 5 to 10 more minutes.
Slice the Classic Meatloaf into even slices and spoon the mixture on top. Enjoy!