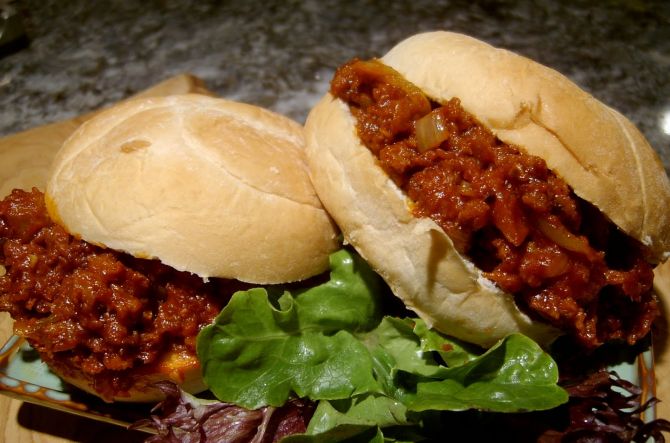 The juicy morsels of Field Roast crumbled meatloaf is the perfect filler for Sloppy Joes! You might recall a special hempseed infused
Sloppy Jane
mix that David made for the crowds of 2008 Hempfest, and this recipe is good ol' Joe at its finest.
Print Recipe
Ingredients
1 Field Roast Meatloaf (broken into crumbles by hand)
1 onion (diced)
2 cloves garlic (diced)
1/4 cup olive oil
1/4 cup canola oil
1 lg can tomato paste
2 T vinegar
1/4 cup molasses
1/4 cup + 1Tbs cup water
salt to taste
6 Hamburger Buns
Directions
In a large pot on medium heat begin to saute onions in olive oil. Saute until translucent then add garlic. Add canola oil and when temperature has recovered in the pot add crumbled Field Roast meatloaf. Stir and and once meat has begun to brown a bit add tomato paste and water. Then add vinegar and molasses. Reduce heat to low and simmer for 15-20 minutes. Serve on hamburger bun or slider buns.