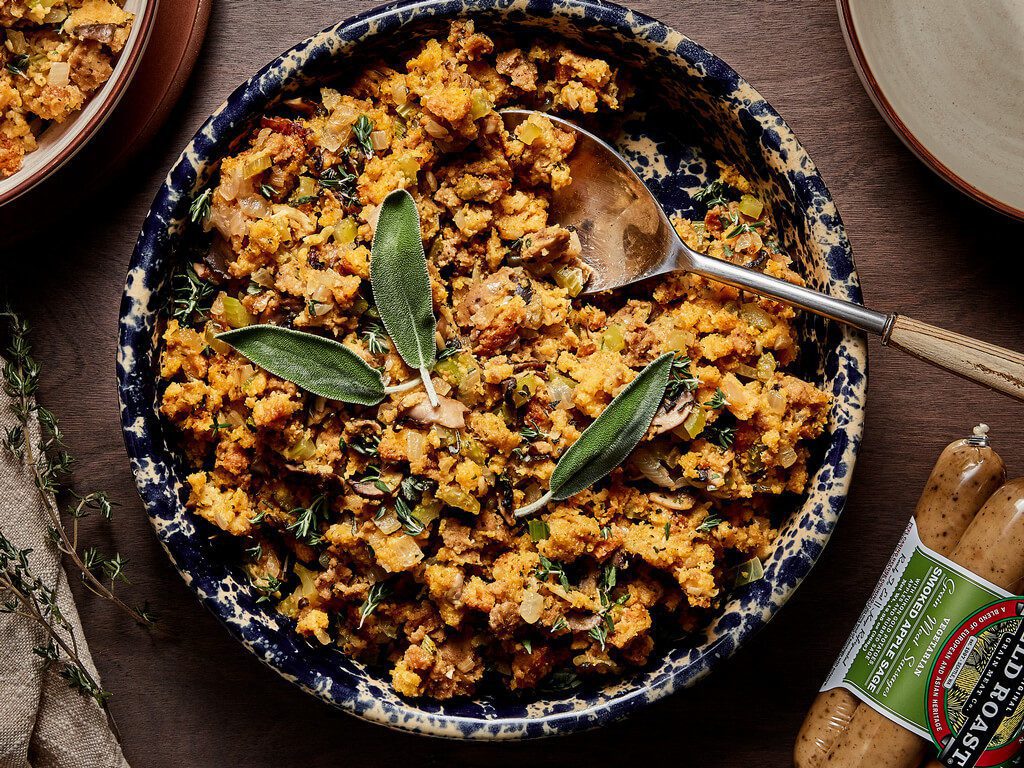 This recipe is really simple, vegan, and utterly joyous! The sweet and smoky notes of our Smoked Apple Sage Sausage are a perfect addition to traditional stuffing, and easy! No one…not even your overly proud carnivorous uncle will miss the unmentionable turkey "parts" that are missing from this dish.
Print Recipe
Ingredients
2 links Smoked Apple Sage Field Roast Sausages
2 Large stalks celery, chopped
1 Medium yellow onion, diced
1 1/2 cup veggie stock (I used my own!)
8 oz Mushrooms – Button or Cremini
6 oz Cornbread Stuffing mix (Mrs. Cubbison's is vegan!)
2-3 Tbsp Earth Balance
Fresh Thyme & Sage for Garnish
Directions
Simply chop all your veggies, and sweat them in a skillet over medium heat in the Earth Balance. This takes about 10 minutes.
This creates a great steamy atmosphere for the Field Roast to go into. One must NOT dry out the grain meat! Slice the two links into rounds and crumble them into the now sauteed veggies with your hands. After a quick stir, add the veggie stock and stuffing mix. Stir to coat the mixture with the stock, and cover the pan for about 8 minutes. Voila! Tasty vegan stuffing!