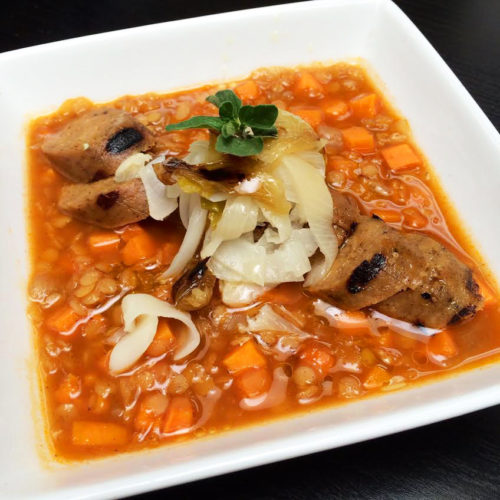 Curried Lentils with Slow-charred Spring Onions & Grilled Smoked Apple Sage Sausage
This is a great hearty soup for grilling season once spring onions start to pop up at your local farmers markets!
Ingredients
4-6 spring onions
1 yellow onion, diced
2 tablespoons olive oil
2 tablespoons curry powder
1 tablespoon ground cumin
2 cups red lentils
6 cups vegetable broth
1 large sweet potato, peeled and diced
2 links Field Roast Smoked Apple Sage Sausage
Sea salt and pepper, to taste
Preparations
Place spring onions directly on to grill, and allow the outside to char. The point is to grill the outside, and slow cook the inside. If you are using coals, you can bury the onions beforehand in the smoldering coals, and allow to slow cook.
Over medium-low heat, sautee yellow onions with olive oil and spices. Allow onions to sweat, and spices to "awaken". If it becomes too dry before onions are allowed to become translucent, add water to deglaze the pan, 1 tablespoon at a time.
Add lentils, broth, sweet potato, and one tablespoon of salt. Lower heat and allow lentils to simmer, stirring semi-frequently to avoid scorching. After 45 minutes to an hour, lentils should soften, and may be removed from the heat.
Remove Field Roast Smoked Apple Sage Sausage from the package and place directly on to grill, heating throughout. Slice, and set aside.
Remove charred skin from the outside of the spring onions, inside should be soft and sweet. Slice this part and set aside.
Spoon lentils into bowls, top with sliced spring onions and grilled sausage. Serve hot!