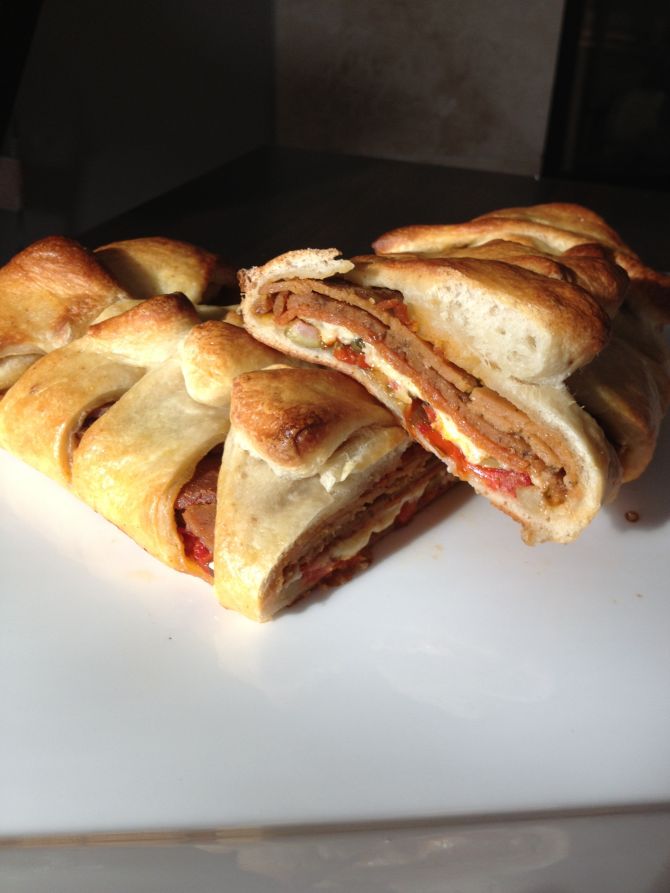 This stromboli is easy to prepare and your guests will be impressed when you bring this beauty to the table.
Print Recipe
Ingredients
1 Store-bought or homemade pizza dough
2 packages Field Roast Deli Slices, Wild Mushroom and Smoked Tomato or other
1 package Field Roast Creamy Original Chao Slices
½ cup Mixed olives from the olive bar at the grocery store
½ cup Oil-packed sun dried tomatoes
1 TBS Capers
Flour, for rolling
Olive oil
Fresh basil, optional
Directions
In a food processor or by hand, mince the olives, capers and sun dried tomatoes. On a floured bench, roll out the pizza dough into a large rectangle. In the center of the dough spread the olive/ sun dried tomato mixture. Next, add a layer of Chao Slices. Finally layer the Field Roast Deli Slices on top. Add a layer of fresh basil if using.
Either fold over the sides and crimp the dough on the top making sure to cut some vents to allow for escaping steam, or make slices in the dough up the side folding them over to create a braided look. Allow to rest on a baking sheet for 30 minutes to proof. While resting, preheat the oven to 325°F. Brush the pizza dough with olive oil and bake until golden, about 25 minutes. Be sure to check the stromboli halfway through and rotate baking sheet for even browning. Allow to cool for 10 minutes and enjoy!