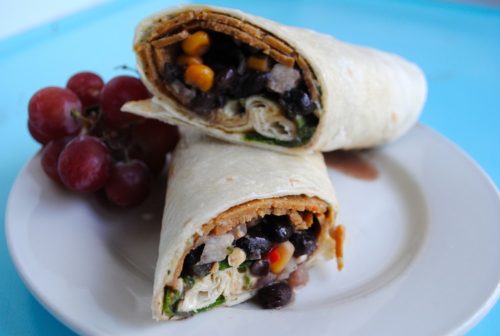 Try these wraps from Cooks in the Field Healthy Homemaker, Sarah Creighton, for a fresh and simple lunch or snack. The bright Bean and Corn salad can be made ahead and also eaten as a side.
Ingredients
For Wraps:
2 Flour tortillas
2 TBS Hummus or vegan mayo, divided
6 slices Field Roast Deli Slices, any flavor
2 handfuls Fresh baby spinach, divided
1 1/4 cup Bean and Corn Salad
For Bean and Corn Salad:
2 TBS Balsamic vinegar
1 TBS Extra virgin olive oil
1 TBS Fresh lime juice
1 tsp Garlic powder
1 tsp Ground oregano
1/4 tsp Sea salt
1/4 tsp Ground black pepper
4 cups Black beans, rinsed and drained
2 cups Fresh corn kernels
1 Red bell pepper, diced
1/2 cup Diced scallions
1/3 cup Fresh cilantro, roughly chopped
Preparations
For Wraps:
Lay each tortilla flat. Spread entire tortilla (each) with 1 TBS each of hummus or vegan mayo.
Layer on the spinach leaves down the middle, then the Deli Slices.
Top with an even amount of Bean and Corn Salad down the center.
To roll, gently fold in both ends slightly, then start at one end and roll tightly as you go. Slice in half diagonally.
For Bean and Corn Salad:
In a large bowl, mix together balsamic vinegar, olive oil, lime juice, garlic powder, oregano, salt and pepper.
Add in beans, corn, peppers and scallions. Toss well and chill, covered for two hours. Add fresh cilantro just before serving.