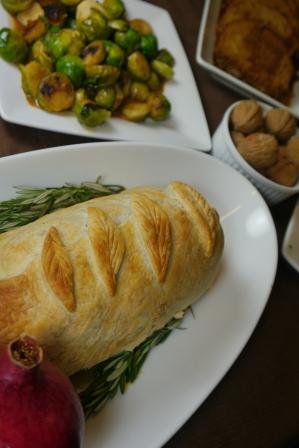 If you can't find our Hazelnut Cranberry Roast En Croute, or you just want to impress, try this classic English recipe with a Field Roast twist.
Print Recipe
Ingredients
For the Duxelles:
1 1/2 lbs White button mushrooms
2 Shallots, rough chopped
4 cloves Garlic, rough chopped
2 sprigs Fresh thyme
2 TBS Vegan butter
2 TBS Olive oil
Salt and Pepper, to taste
For the Wellington:
1 Field Roast Classic Meatloaf
1 sheet Vegan puff pastry
8 oz Vegetable pate
Directions
Preheat oven to 400°F.
Place mushrooms, shallots, garlic, and herbs into food processor, and pulse until minced.
In a skillet over medium heat, add mushroom mixture, olive oil, and vegan butter.
Cook until moisture has evaporated. Remove from heat and season with salt and pepper.
Lay out puff pastry. Then spread pate across dough, followed by mushroom mixture.
Place Field Roast Classic Meatloaf in the middle and fold, tucking both loose ends underneath the roast.
Bake for 35-40 minutes, or until roast is browned on the outside.
Allow to cool 10 minutes before cutting, serve with gravy, cranberry sauce, or hollandaise sauce.