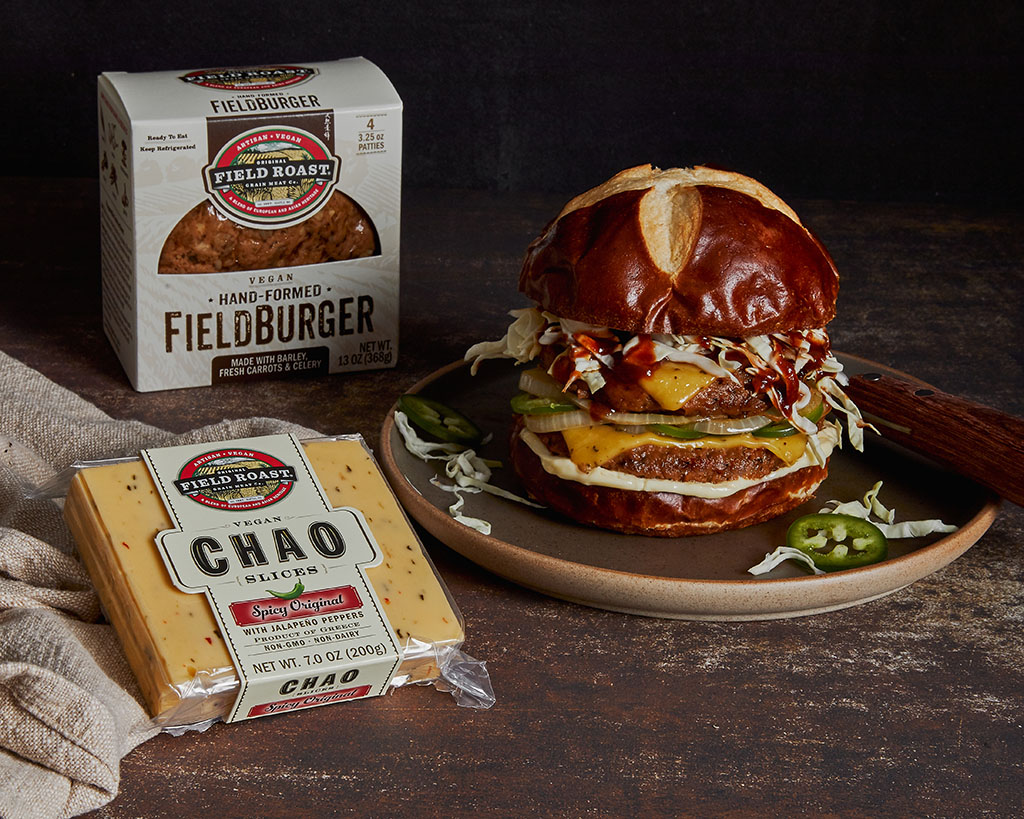 Missing summer cookouts yet? Relive those sunny days with this double BBQ cheeseburger centered around our juicy FieldBurger.
Print Recipe
Ingredients
2 TB olive oil, divided
½ onion, sliced
½ tsp sea salt
2 portobello mushrooms, stems removed and thinly sliced
a few dashes of fresh cracked pepper
1 TB plant-based butter
4 slices of Field Roast Chao Slices
2 TB water
2 hamburger buns of your choice
olive oil spray
plant-based mayo
fresh jalapeño, sliced
1 cup shredded cabbage or lettuce
¼ cup of your favorite BBQ sauce
Roll of paper towels.
Directions
Place stainless or cast iron saute pan on medium-high heat. Add oil.  Add the onions and sea salt, toss to coat. Add the mushrooms, black pepper and plant-based butter. Toss again to coat and saute until onions have slightly caramelized and mushrooms have softened. About 4 minutes cooking time.
In a separate cast iron pan on medium-high heat, add the remaining tablespoon of olive oil into a cast iron pan. Place in the Field Roast FieldBurgers and allow to brown on one side, about 3-4 minutes. Flip and continue to pan fry for 2 minutes. Place a slice of Chao cheese over each burger.
Add a small splash of water to one side of the pan to create a steaming effect, then cover quickly with a lid for about 2 minutes. This allows the cheese to melt perfectly for your burgers. Remove burgers and place on a plate. Keeping the burner on the toast the buns.
Spritz the hamburger buns with some olive oil spray, or spread plant-based butter. In the same cast-iron pan, place the hamburger buns inside to toast for about 2 minutes. Once toasted, turn off heat and place a tablespoon of plant-based mayo onto each side of the toasted bun. Place the burger on top, followed by the jalapeño slices, another burger, then the desired amount of onions and mushrooms.
Top with some shredded cabbage or lettuce, a generous amount of BBQ sauce and more sliced jalapeños if you like it hot! Serve immediately with a roll of paper towels.
Recipe © Wicked Healthy, LLC