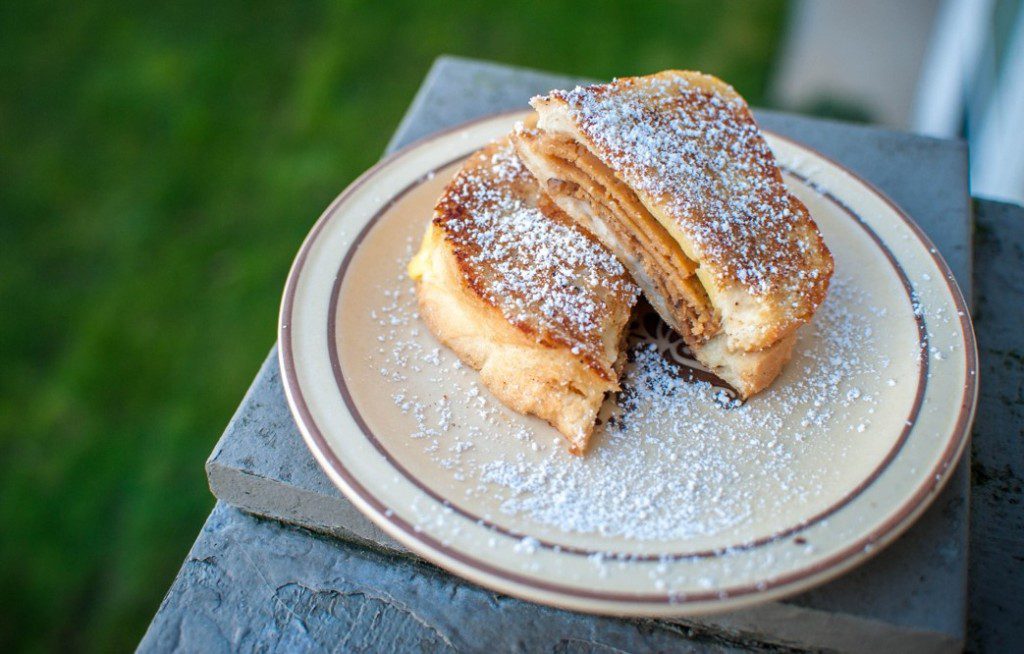 This sweet & savory recipe earned
Chuck Pepper Jr.
his title as Field Roast Home Cook! This twist on a classic Monte Cristo sandwich does not shy away from combining flavors. Two kinds of Chao Cheese and two kinds of Deli Slices, dipped in batter and fried to perfection. To keep it on the savory side, stick with powdered sugar for garnish. For a sweeter option, serve with preserves. Keep an eye out for
new recipes from Chuck Pepper Jr.
in the upcoming months!
Print Recipe
Ingredients
2 cups almond milk
1 tsp egg replacer
1/2 tsp salt
1/2 tsp nutmeg
1/2 tbsp sugar
French bread - sliced
1 package Field Roast Chao Coconut Herb
1 package Field Roast Chao Cream Original
1 package Field Roast Lentil Sage Slices
1 package Field Roast Wild Mushroom Slices
Powdered sugar
olive oil to grease skillet
Directions
Heat a large heavy bottomed skillet with a little olive oil, just to keep the bread from sticking.
In a shallow dish, whisk together egg replacer, salt, nutmeg, almond milk and sugar.
Lay out two pieces of bread and cover each side with a slice of Chao Cheese (Coconut herb on one, Creamy Original on the other). Next, layer 1 to 2 pieces each of Wild Mushroom and Lentil Sage Deli Slices. Combine the halves together to form a sandwich.
Carefully dip the sandwich in your batter in the shallow dish, let it sit for a few seconds so some of the batter soaks into the bread. Flip the sandwich over to soak the other side of the bread.
Move the sandwich into your pan and let it cook on one side for 1 to 2 minutes, until the batter has firmed up and it looks almost like a french toast, then flip over and repeat on the other side.
When both sides golden brown, transfer to a plate and lightly sift some of the powdered sugar onto the sandwich.
Enjoy as desired! Some Monte Cristos are eaten with a jelly or preserves, but for this savory option, just the hint of powdered sugar.