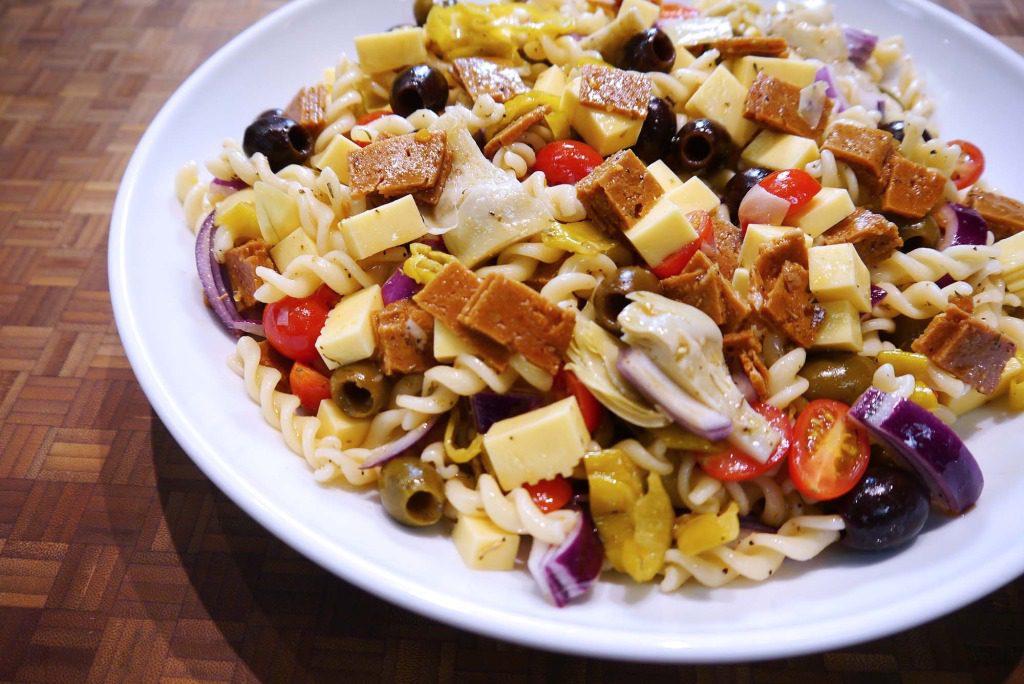 This classic appetizer moonlights as a party dish that goes a long way and always pleases. Switch it up with your favorite, fresh ingredients to reflect your own style of antipasto. If you love combining our Chao Slices with our Grain Meats as much as we do, you'll enjoy this recipe.
Print Recipe
Ingredients
1 package Creamy Original Chao Slices
1 package Smoked Tomato Deli Slices
2 cups Fusilli pasta, dry
1 cup Cherry tomatoes, halved
1 Red onion, chopped
1 cup Artichoke hearts, quartered
1 cup Kalamata olives, pitted
1 cup Green olives, pitted
1 cup Pepperoncini
1/2 cup Avocado oil
1/4 cup Red wine vinegar
1 tsp Salt
1 tsp Pepper
1 tsp Oregano
Directions
Cook fusilli according to package, drain but do not rinse, and set aside to cool.
In a jar or small container, combine avocado oil, red wine vinegar and seasonings. Shake until mixed together. Set aside.
Open the package of Creamy Original Chao Slices and cut the stack into cubes (5 sections, each direction). Do the same with the Smoked Tomato Deli Slices. Cut and chop other ingredients as needed.
In a large bowl, combine all ingredients together and pour the oil mixture over the top. Toss until evenly mixed and serve!