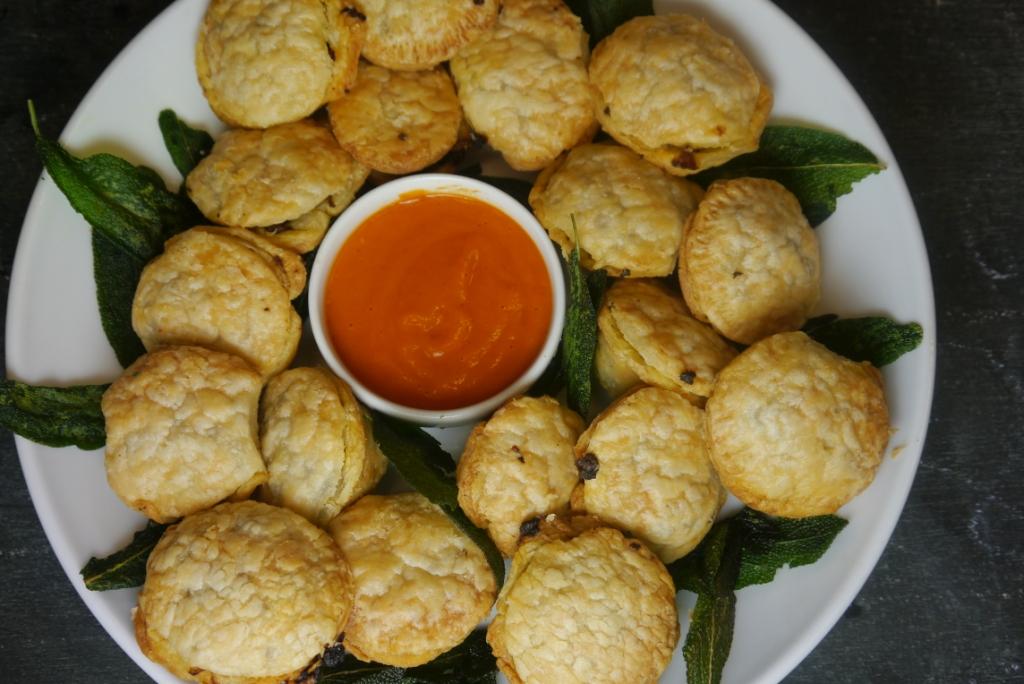 This is an awesome recipe to use as an appetizer for the holidays or anytime. Try making them in small one or two bite sizes using miniature cupcake pans and serve them with a spicy ketchup and crispy fried sage leaves.
Print Recipe
Ingredients
2 sheets Vegan Puff Pastry
1 Small yellow onion, diced
1 Carrot, diced
1 Yukon Gold potato, diced
½ Fennel bulb, diced
1 Field Roast Classic Meatloaf, crumbled by hand
4 Crimini mushrooms, diced
1 cup Vegetable stock
2 cloves Garlic, smashed
2 TBS Extra virgin olive oil
2 TBS Vegan Worcestershire sauce
2 Bay leaves
1 sprig Fresh rosemary
2 sprigs Thyme
Salt & Pepper, to taste
Directions
Sauté onion, carrot, fennel, and garlic together with olive oil over medium heat. Allow vegetables to sweat.
To cooking mixture, add herbs, potato, mushrooms, and Field Roast Classic Meatloaf, with a pinch of salt. Sauté for another 5 minutes, stirring to avoid sticking to the bottom.
Reduce heat to a simmer and deglaze pan with vegetable stock. Allow to simmer until most of the liquid is absorbed, add vegan Worcestershire sauce and stir. Remove from heat.
Preheat oven to 400°F.
When mixture has cooled, prepare pans by cutting the puff pastry to fit into each form. Fill generously with filling, then top with another piece of pastry. Crimp edges to seal.
Bake at 400°F for 20-25 minutes or until golden brown.