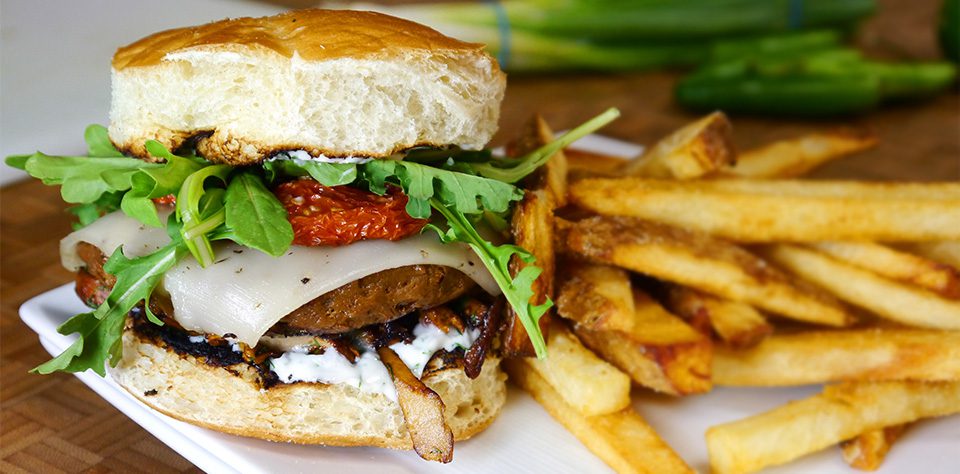 Looking for a fresh vegetarian burger with a pop of fresh flavors? This burger is for you! The flavor of the FieldBurger is complimented nicely by fresh ingredients, oven-roasted tomatoes, dill mayo and melted Coconut Herb Chao Cheese.
Print Recipe
Ingredients
4 Field Roast Burgers
4 Field Roast Coconut Herb Chao Slices
4 Rustic buns, sliced
1/2 cup Vegan mayo
1 TBS Fresh dill, minced
1 lb Chanterelle mushrooms, cleaned and sliced
1/4 cup Safflower oil
2 Roma tomatoes
2 cloves Garlic, minced
4 sprigs Fresh thyme
3-4 oz Baby arugula
Salt and pepper, to taste
Directions
Slice roma tomatoes in 1/4" slices and toss in 1 tablespoon oil, garlic and salt and pepper to taste. Arrange on a lined baking sheet, and place into an oven at 200°F for 2-3 hours, until most of the moisture is gone.
Combine vegan mayo and dill and set aside.
In a skillet over medium heat, add the remaining safflower oil, chanterelle mushrooms and salt and pepper to taste. Cook until mushrooms are soft and slightly browned. Remove from heat.
Grill Burgers, adding Chao Slices halfway through to allow to melt. Place on bun. Dress with dill mayo, mushrooms, tomato slices and arugula.