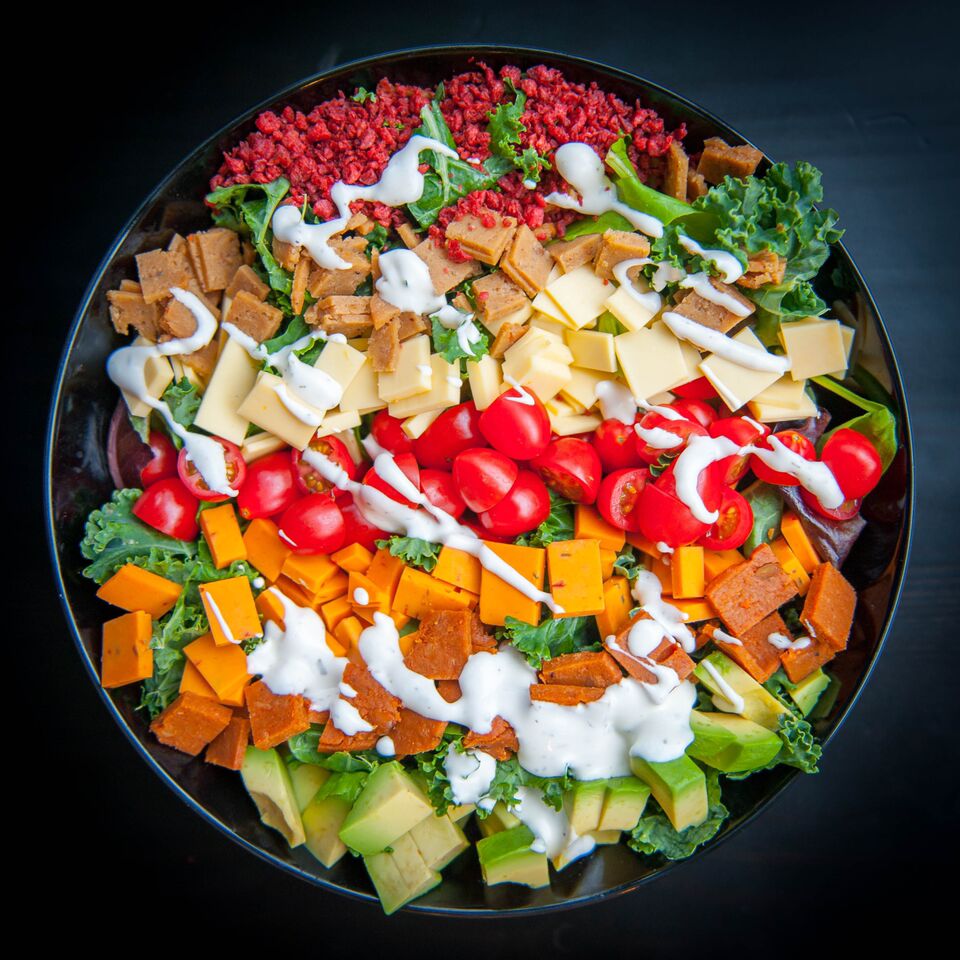 If you're looking for something light & fluffy then look elsewhere, because Chuck Pepper Jr. created this hearty cobb salad loaded with bold flavors! Loaded with veggies, avocado, vegan bacon bits, two kinds of Field Roast Deli Slices and two kinds of Chao Slices....you'll be digging in for seconds. Make a big batch of this salad for a party or potluck!
Print Recipe
Ingredients
1 package Chao Creamy Original Slices, chopped
1 package Chao Tomato Cayenne, chopped
1 package Field Roast Lentil Sage Deli Slices, chopped
1 package Field Roast Smoked Tomato Deli Slices, chopped
2 avocado, chopped
Cherry/Grape Tomatoes, sliced in half
1 cup Vegan bacon bits
1 bunch Kale
1/2 pound spinach leaves
Vegan salad dressing (I used blue cheese!)
Directions
For this you can use any two kinds of Field Roast Deli Slices and Chao Cheeses so mix and match your favorites! Then take those favorites and chop them into pieces about 1/4 inch each.
Take your avocados and slice them in half, use remove the pits from them and then make cuts lengthwise one way and then the other. Using a large spoon scrape along the inside of the peel to pop the chunks of avocado out.
Slice the tomatoes in half across the middle.
Wash your kale and remove it from the stem, tearing into bitesize pieces. Then massage the kale in your hands gently until it becomes bright green and releases its flavor. Make sure your spinach is washed as well.
Large salad bowls are great for this, place a fistful of kale and a fistful of spinach into the bottom bowl and spread it out making a good base for all your toppings. Starting in the middle spread a line of the tomatoes. Then on either side of the tomatoes create a line of cheese. On the other side of that a layer of meat. Avocado on one side and bacon bits on the other. Repeat building the salads for as many people as you're making servings. Drizzle your dressing on the top and dig in!