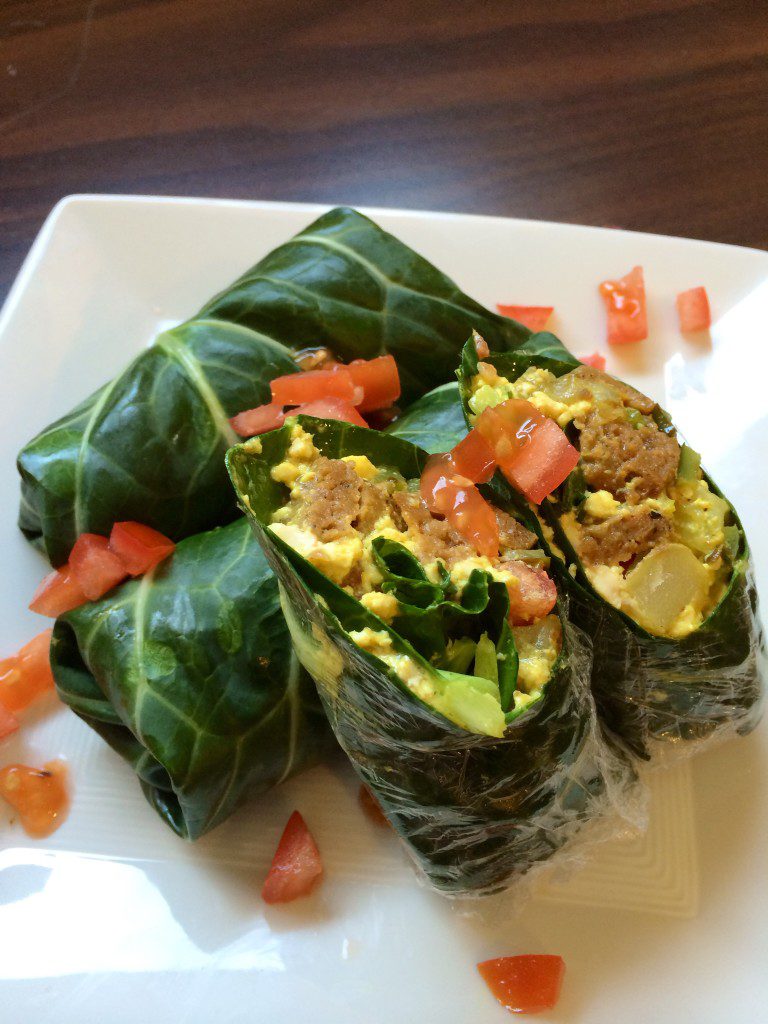 This breakfast recipe will not only make your mouth water, but provide the protein and energy you need to start the day! This is also a great meal for a brunch occasion or finger food option for guests.
Print Recipe
Ingredients
6 Field Roast Apple Maple Breakfast Sausages, sliced
1 lb Yukon Gold potatoes, 1/4 inch diced
1 Jalapeno, minced
1/2 bunch Green onions, sliced
1 cup Baby spinach, packed
1/2 lb Firm tofu
1/4 cup Nutritional yeast
2 TBS Vegan mayo
1 tsp Turmeric
1 TBS Mustard powder
4 large Collard leaves, with stems removed 1/3 of the way up the leaf
1 Roma tomato, diced
1 TBS Olive oil
Cilantro
Directions
Preheat oven to 425°F..
Toss potato in oil, and roast on a baking sheet for 15 minutes.
In a skillet, sauté Field Roast Apple Maple Breakfast Sausage, potato, jalapeno, green onion, and spinach, until spinach has cooked down. Remove and set aside.
In a separate bowl, combine tofu, mayo, mustard, nutritional yeast, and turmeric.
In a pan over medium heat, lightly sauté tofu mixture.
Lay each collard leaf out on work surface and fill with one scoop tofu mixture, one scoop sausage mixture, then garnish with tomato and cilantro sprigs to taste. Roll each leaf up, like you would a tortilla.
For added stability, wrap each burrito in cellophane and slice down the middle, peeling the plastic away as you eat.