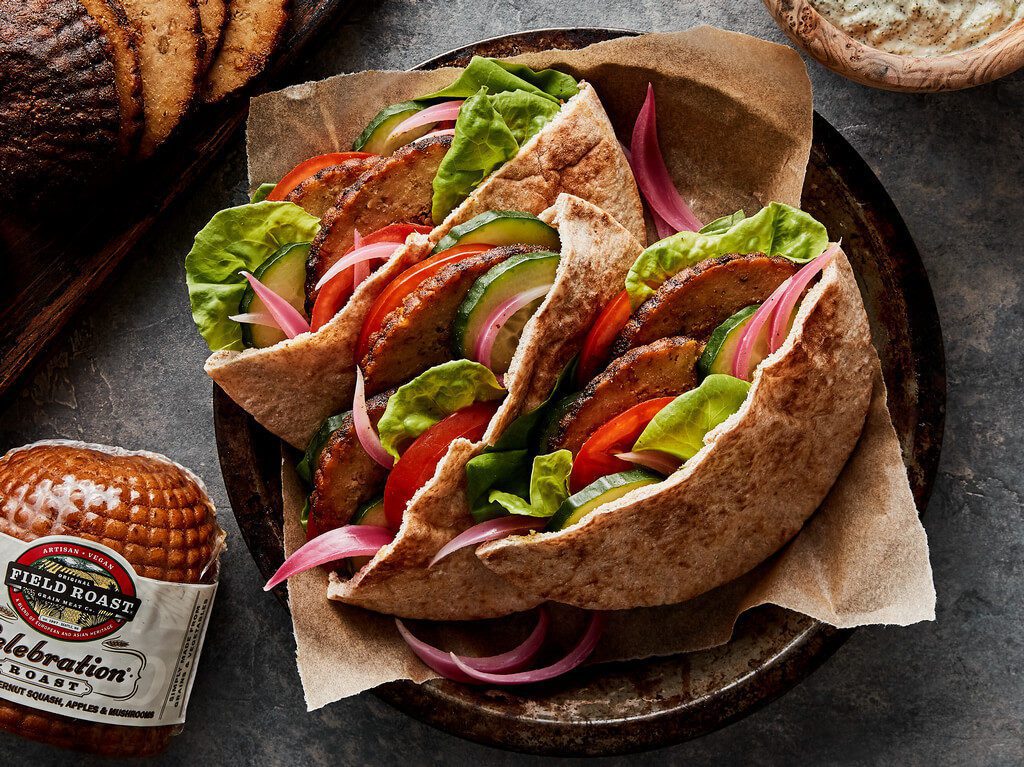 Shawarma is a Middle Eastern delicacy, usually made of a mixture of meats, placed on a spit and grilled long and slow for hours. This recipe by
Adam Rosen
, our
Cooks in the Field
Grill Master, uses Field Roast Celebration Roast and mimicks the spices and grilled flavor to create a vegan shawarma. The Celebration Roast can be stuffed in a pita with all the fixings or served alone on a plate with a variety of salads. One sauce you can't live without is tzatiki, usually yogurt-based but made with cashews here, that is cool and refreshing with the spicy flavor of the shawarma. Pair these two together for a winning combination.
Print Recipe
Ingredients
For Shawarma:
1 Field Roast Celebration Roast
2 tsp Coriander
2 tsp Cumin
2 tsp Paprika
½ tsp Allspice or cloves
1 tsp Turmeric
1 tsp Garlic powder
½ tsp Cinnamon
¼ tsp Cayenne
Salt and pepper, to taste
¼ cup Olive oil
For Tzatziki:
1 cup Cashews, soaked for an hour and rinsed (no need to soak if using a high speed blender)
1/2 cup Water
1 TBS Dried dill
2 TBS Lemon juice, about 1/2 lemon
4 cloves Garlic
1 cup Cucumber, peeled and grated
Directions
Mix the shawarma spices together in a small bowl. Coat the outside of the Celebration Roast in oil and then rub the spice mix all over. Set in the fridge for an hour to let the flavors marinate.
Meanwhile, place all the ingredients for the tzatziki, except for the cucumber, in a blender. Blend until smooth. Add a little more water if needed. Stir in the grated cucumber and refrigerate.
Prepare the grill for indirect heat. Place the marinated Celebration Roast on the grill and cook on each side for about 10 minutes. (You don't want it charred.)
Slice thin and stuff into a pita with tomato, cucumber salad, pickled veggies and top with the cooled tzatziki.