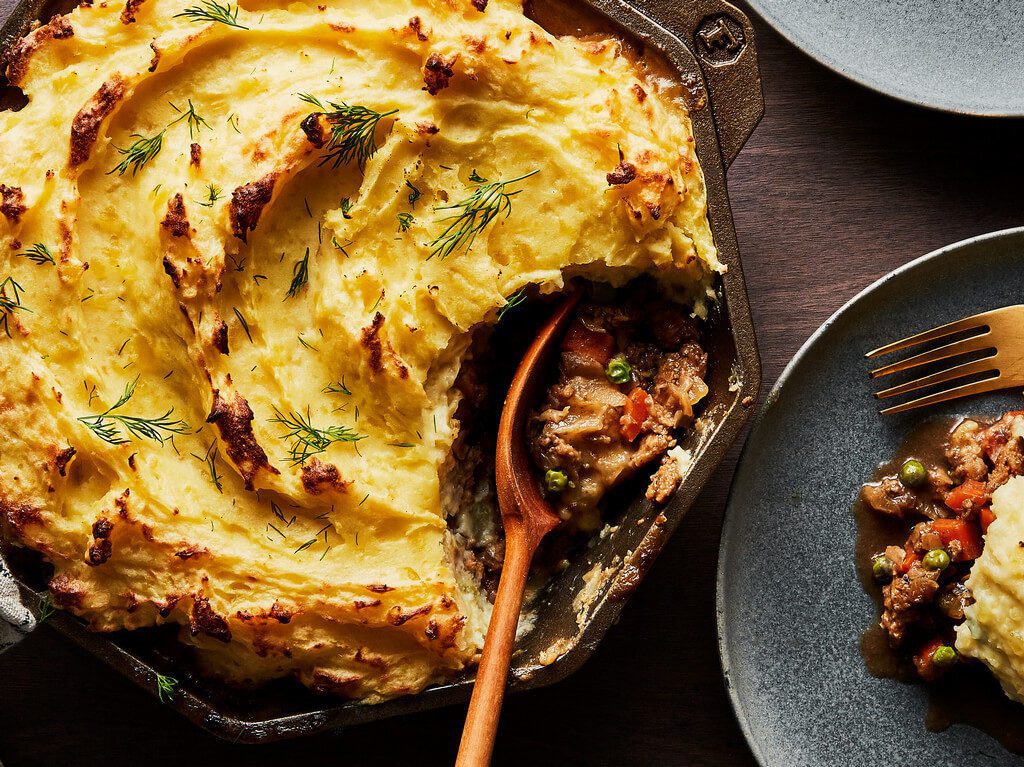 Try this classic shepherd's pie with a twist using crumbled Field Roast Italian Sausage in a creamy mushroom gravy--comfort food for a healthy appetite.
Print Recipe
Ingredients
8 Field Roast Italian Sausages, crumbled
4 Large carrots, diced
2 Large onions diced
4 Shallots, minced
2 Fennel bulbs
5 lbs Yukon gold potatoes
½ lb Earth Balance
½ lb Tofutti sour cream
2 TBS Vegan Worcestershire
1 lb Wild mushrooms
3-4 Dried porcini mushrooms
2 qts Vegetable stock
4 cloves Garlic
1 lb English peas
4 sprigs Fresh dill
2 sprigs Rosemary
Olive oil
Salt & pepper
Directions
Add potato to boiling water with 2 tablespoons salt. Cover and allow to cook for 25 minutes over high heat, or until potatoes are soft all the way through.
Brush dirt off of mushrooms, slice and coat with oil, salt, and pepper. Place on sheet pan with rosemary, and roast in a 450°F oven until brown. Add to vegetable stock, with porcini mushrooms, over medium heat, and allow to reduce for 25-30 minutes. Using an immersion blender, puree the stock into a gravy.
Mince two cloves of garlic, and add to potato, along with Earth Balance, and sour cream. Mash with a large whisk or potato masher.
In a skillet over medium heat, add crumbled Field Roast, along with 3 tbsp olive oil, and brown. Remove from skillet and set aside.
Place skillet back over heat, and add the remaining garlic, shallot, onion, carrot, fennel, and 2 tbsp oil, and allow to sweat. Once vegetables have cooked down, reduce heat and allow to simmer, while adding 2 cups of the gravy mixture, peas, and Worcestershire sauce. Allow to reduce until almost all liquid is gone, then season to taste with salt and pepper.
In a baking dish, spread vegetable mixture across the bottom, then top with potato mixture. Bake at 450°F for 25-30 minutes. Remove when potato on top has begun to brown. Before serving, ladle a small amount of gravy onto the plate then place pie on top, garnish with chopped fresh dill.