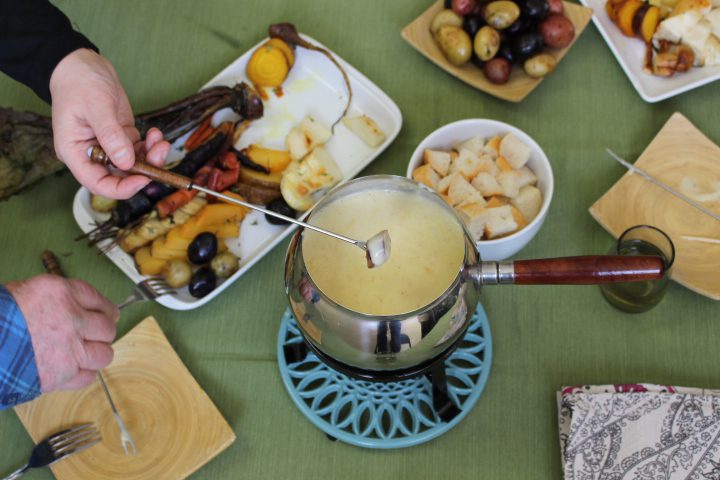 A delicious party appetizer, traditionally served with crusty french bread. We opted for a more substantial version by adding some seasonal roasted root vegetables. My family is from Switzerland, and cheese fondue is a staple dish that my Aunt and Mother make every holiday. I have adapted this version to capture the same spirit to the dish, while keeping everything plant centric. In our tradition, the adults are required to visit the brandy bottle if they drop their bread (or veggies) off their fork and in to the fondue pot.
Print Recipe
Ingredients
For the Fondue
2 pkgs Creamy Original Chao Slices Shredded
3/4 cup Chardonay (on the buttery side)
1/4 cup Hazelnuts, toasted and ground, or finely chopped
1 Tblsp Dijon Mustard
1 1/2 oz Kirsch (cherry brandy)
1 Tblsp all-purpose flour
1   garlic clove peeled and sliced in half
1/2 tsp Nutmeg
1    medium sized Turnip, peeled and sliced
2    medium sized Parsnip washed, and scrubbed clean
4    small to medium sized Carrots washed, and scrubbed clean
1    medium sized Celery Root peeled and sliced in half
1    medium sized Beets washed, and scrubbed clean
2    Tblsp Olive oil
1    Tblsp Sea Salt
5    sprigs Fresh Thyme
2    tsp Black Pepper
AluminumFoil
Directions
Preheat oven to 425 degrees.
Toss all root vegetables in olive oil, salt, pepper, and fresh thyme sprigs. Evenly distribute vegetables and wrap in three to four foil packets, place on a sheet tray and roast in the oven for 35-40 minutes, or until roots are cooked throughout. Set aside.
Toss shredded Chao Cheese with all-purpose flour.
In a fondue pot, or a small saucepan, over medium low heat, slice the garlic clove in half and carefully rub the flat sides against the surface of the pot. Rub across the entire cooking surface thoroughly, the pan should begin to smell very fragrant.
Add the hazelnuts to the pot, and cook for 3-4 minutes while stirring occasionally, being careful not to burn the nuts.
Add the dijon, wine, nutmeg, and kirsch, stir, and bring the heat up to medium. Slowly incorporate the shredded cheese by the small handful, while stirring, waiting until the cheese melts before adding the next handful. When you have added all the cheese, if the texture still looks lumpy, use an immersion blender to combine any remaining lumps.
Reduce heat to low, cut root vegetables in to bite size pieces or slices, and serve.