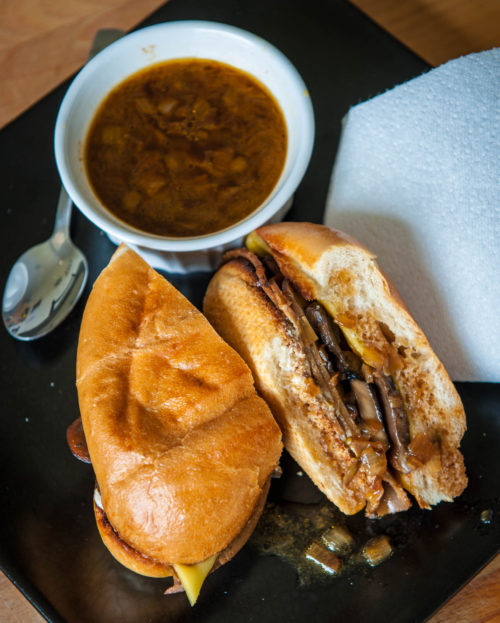 French Dip with French Onion Au Jus
This savory french dip with melted cheese and french onion jus is a comforting creation by Cook in the Field Chuck Pepper Jr.
Ingredients
Horseradish Spread:
1/4 cup Vegan sour cream
3 tbsp Horseradish
1 tbsp Vegan cream cheese
Fresh ground pepper
French Onion Au Jus:
4 Yellow onions, diced
4 tbsp Soy sauce
2 tbsp Vegan worcestershire
4 cups Vegetable stock
Olive oil
French Dip:
4 Hoagie rolls, sliced in half lengthwise
1 package Chao Creamy Original Slices, cut diagonally
2 packages Field Roast Wild Mushroom Deli Slices
8 oz Mushrooms, sliced (white or cremini)
Olive oil
Preparations
First start the au jus, as it will take the longest. Take a medium to large stock pot and add few tablespoons of olive oil over medium heat. When the oil is hot add the diced onions and let them cook for about 30 minutes, until they are soft and caramelized, stirring frequently.
While the onions cook, put together the horseradish sauce. In a small bowl, mix the horseradish with the vegan sour cream and cream cheese until it is well mixed (I like my horseradish sauce to have some bite, but if you want less of that just cut back to 1-2 tablespoons instead of the 3 I used). Add fresh ground pepper and stir to combine. Set this aside in fridge for now.
About 20 minutes through the onions cooking grab another medium sized pan, add a few tablespoons of oil over medium high heat. When the oil is hot add your sliced mushrooms to it and a little salt and let them sauté for 10-12 minutes until they have shrunk down some and are nice and dark. Make sure to stir every so often so they don't stick to the pan and can cook evenly.
After the onions are caramelized add in the vegetable stock, soy sauce and Worcestershire and bring to a boil, then back down to a simmer for about 10 minutes.
Turn on your oven to broil with about 5 minutes left on the au jus. Baste the inside of each of the halves of the hoagie rolls with a little olive oil and throw under the broiler for about 2 minutes, enough to heat the rolls. Pull the rolls out and add the Chao Creamy Original Slices to one side, then put them back under the broiler for another 2 minutes or until the cheese starts to melt.
When the rolls are done take them out of the oven and start to build your sandwiches. On the side of each roll that you didn't put the cheese on, spread some of the horseradish sauce. Take 4-5 slices of the Wild Mushroom Deli Slices and using a pair of tongs, dunk them in the pot of au jus to wet and warm the slices a little bit. Spread the slices across the bun on the side with the horseradish on it, then add your sautéed mushrooms on top of that. Finish off the sandwich by adding the cheesy top to it and slicing it diagonally into two halves.
Ladle some of the french onion au jus into bowls for each person. Grip that sandwich and dunk it! The soft hoagie roll will soak up that au jus goodness and I also try to get some onions with each bite. Enjoy!