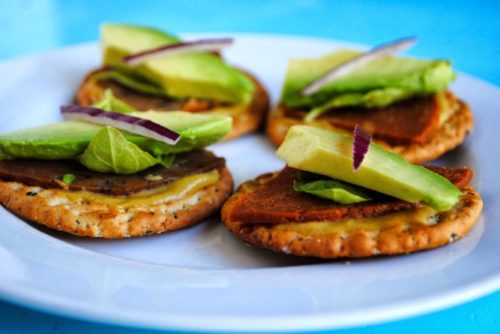 Looking for a snack or appetizer that is super simple to make but still has a classy look? These Fresh Deli Bites by our Cooks In The Field Healthy Homemaker Sarah Creighton are great for any age group!
Ingredients
4 slices Field Roast Deli Slices, any flavor
16 Multigrain crackers
16 Fresh basil leaves, rinsed and dried
1 Medium ripe avocado
1/8 Red onion, sliced thin
For The Sauce:
1 TBS Mustard
2 tsp Orange juice
1/2 tsp Brown sugar
Pinch of sea salt
Preparations
In a small bowl, whisk together mustard, orange juice, brown sugar and sea salt.
Place all 4 Field Roast Deli Slices on top of each other and slice into quarters with a sharp knife so you have 16 triangles.  Cut avocado in half, then into thin slices.
To assemble:  Top each cracker with an equal amount of mustard sauce.  Top with Deli Slice, basil leaf, avocado slice and onion.