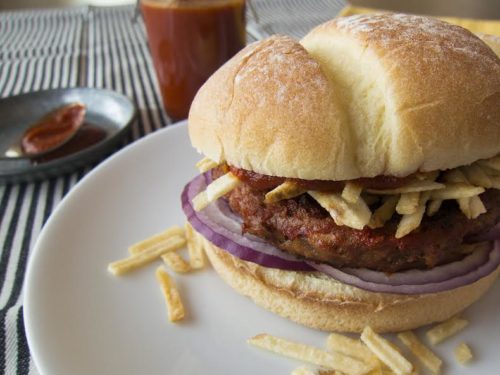 Frita Cubana (Cuban Burger with Shoestring Potatoes)
If you're craving a no-holds barred burger exploding with flavor, the Frita Cubana is for you. A Cuban street food classic, the Frita is as simple as it is bold. FieldBurgers are smothered in a tangy, spicy tomato sauce and pan seared before being nestled in a soft bun alongside slices of red onion, more sauce, and my favorite part – a pile of crunchy, salty shoestring potatoes. These guys are juicy, messy, and indulgent just like a good burger should be. -Cooks in the Field Urban Foodie Joy Martin
Ingredients
Fritas Cubanas:
2 cups Shoestring potatoes (such as Pik-Nik Shoestring Potatoes)
Olive oil or cooking spray
4 FieldBurgers
1 batch Frita Sauce (recipe below)
4 Soft hamburger buns
1 Small red onion, thinly sliced

Frita Sauce:
1 tsp Oil
1 6 oz can Tomato paste
2 tsp Smoked paprika
1 tsp Ground cumin
1 tsp Garlic powder
¼-½ tsp Cayenne (depending on your heat preference)
1 cup Water
1/2 cup Apple cider vinegar
2 TBS Sugar
1 tsp Salt
Preparations
Frita Sauce:
Bring a small saucepan over medium heat and add oil, followed by tomato paste, paprika, cumin, garlic
powder, and cayenne. Cook tomato paste for two minutes, stirring frequently, until mixture is fragrant
and rusty in color. Add water, vinegar, sugar, and salt, whisking until smooth. Bring to a boil then reduce
heat to low and simmer, whisking occasionally, for 10-15 minutes. Remove from heat and let cool completely, then store in fridge for up to two weeks.
Preheat oven to 200 degrees. Bring a nonstick or well-seasoned skillet over medium heat and add the shoe-string potatoes. Cook, stirring frequently, until hot and slightly golden (about 2-4 minutes). Transfer
to an oven-proof dish and keep hot in the oven until ready to assemble burgers.
Return the same skillet to medium-high heat, adding a bit of oil or cooking spray to coat the pan. Slather
one side of the burgers with Frita Sauce and carefully place sauced-side-down in skillet (sauce may
splatter). Cook undisturbed for 1-3 minutes, until nicely browned, then slather top side of burgers with more Frita Sauce and flip, cooking for an additional 1-3 minutes to brown that side. Once burgers are browned and hot to the center, remove from heat.
To assemble each burger, slather interior of bun with Frita Sauce, then add a layer of red onion, a burger, and a heaping pile of shoestring potatoes. Close burger and serve immediately.