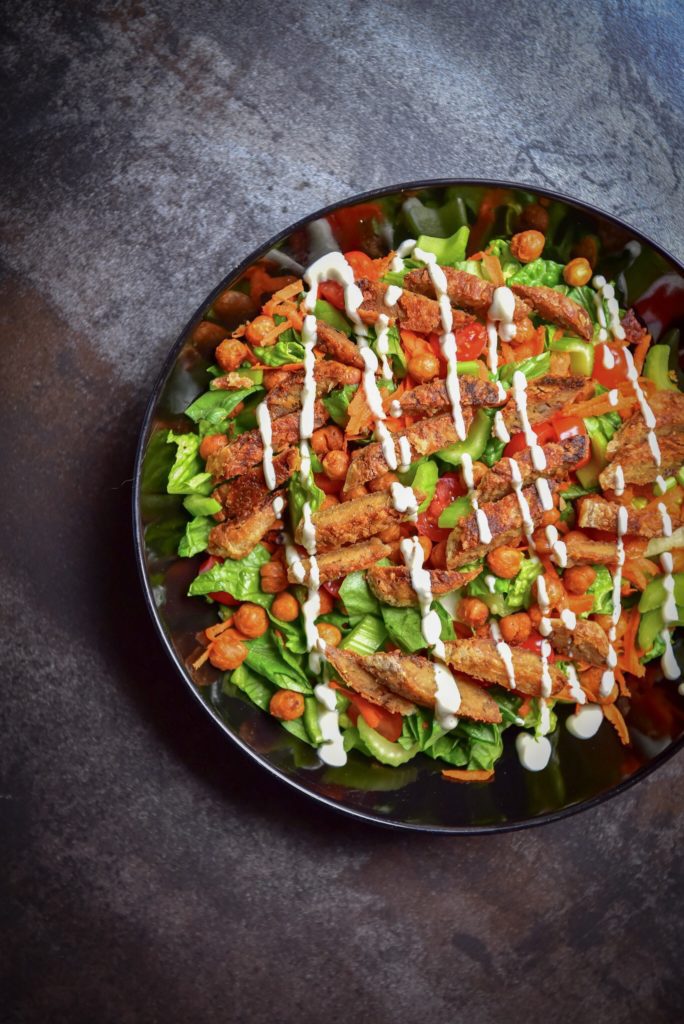 Light but filling salad by Chuck Pepper Jr. featuring FRuffalo Wings, shredded carrots, sliced celery, and tomatoes on a bed of romaine lettuce, topped with a tofu ranch.
Print Recipe
Ingredients
Salad
1 package of Field Roast FRuffalo Wings
1 can chickpeas, drained and dried with a paper towel
1 head of romaine lettuce, chopped
2-3 ribs of celery sliced
1 carrot shredded
Handful of cherry/grape tomatoes quartered
Ranch Dressing – Makes quite a bit!
1 package soft or silken tofu
¼ cup vegan mayo
¼ cup soy milk
1 package vegan ranch seasoning
Directions
Preheat oven to 400
Cook FRuffalo wings according to package and set aside to cool a little, slice them on the bias to create strips.
Warm up the FRuffalo sauce in a bowl according to the instructions.  In a medium bowl mix the patted dry chickpeas with the FRuffalo sauce until well coated.  Pour the chickpeas coated in sauce onto a sheet pan and place in the oven.  Cook for 30 minutes, stirring the chickpeas every 10 minutes so they cook evenly.
In a blender, add the tofu, mayo, milk and ranch seasoning, blend to combine.  Use some more soy milk to thin the ranch to your desired consistency but it shouldn't be too thin.
In a large bowl, add your chopped romaine, carrots, celery and tomatoes.  Top with the naked wings, FRufffalo chickpeas and drizzle with as much ranch as you like!