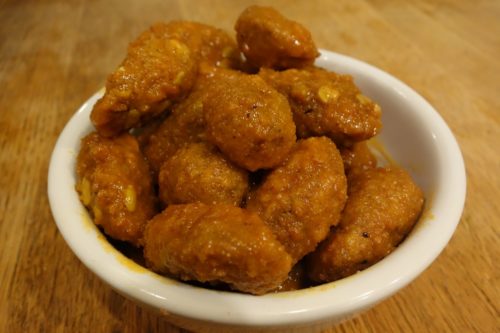 Fruffalo Wings – Classic Buffalo with Smoked Apple Sage Sausage
Field Roast + Buffalo Wings = Fruffalo Wings! You can't go wrong with this saucy, spicy classic version made with our Smoked Apple Sage Sausage.
Ingredients
1 package Field Roast Smoked Apple Sage Sausages
Safflower or vegetable oil (for frying)
For Batter:
2 cups Water
2 cups All-Purpose Flour
For Breading:
1 1/2 cups Breadcrumbs
1/4 cup Sunflower seeds
1 1/2 tsp Onion powder
1 1/2 tsp Salt
1 1/2 Black pepper
1 TBS Dried parsley
For Buffalo Sauce:
2/3 cup Hot sauce (such as Frank's RedHot)
1/2 cup Vegan butter (such as Earth Balance)
1 TBS White vinegar
1/3 tsp Vegan Worcestershire sauce
1/8 tsp Garlic powder
Preparations
Heat oil in deep fryer or heavy pot to 375°F.
Combine buffalo sauce ingredients in a saucepan to heat.
Cut sausages into 1" pieces on the bias.
Stir water and flour until combined to make a thick batter.
Toss sausage pieces in batter to thoroughly coat.
Remove to metal rack to let excess batter drip off.
Toss battered sausage pieces in breading mixture.
Carefully drop into hot oil and fry until crispy golden brown.
Place on paper towel-lined plate and then toss in buffalo sauce.
Serve Fruffalo Wings mounded in a bowl.