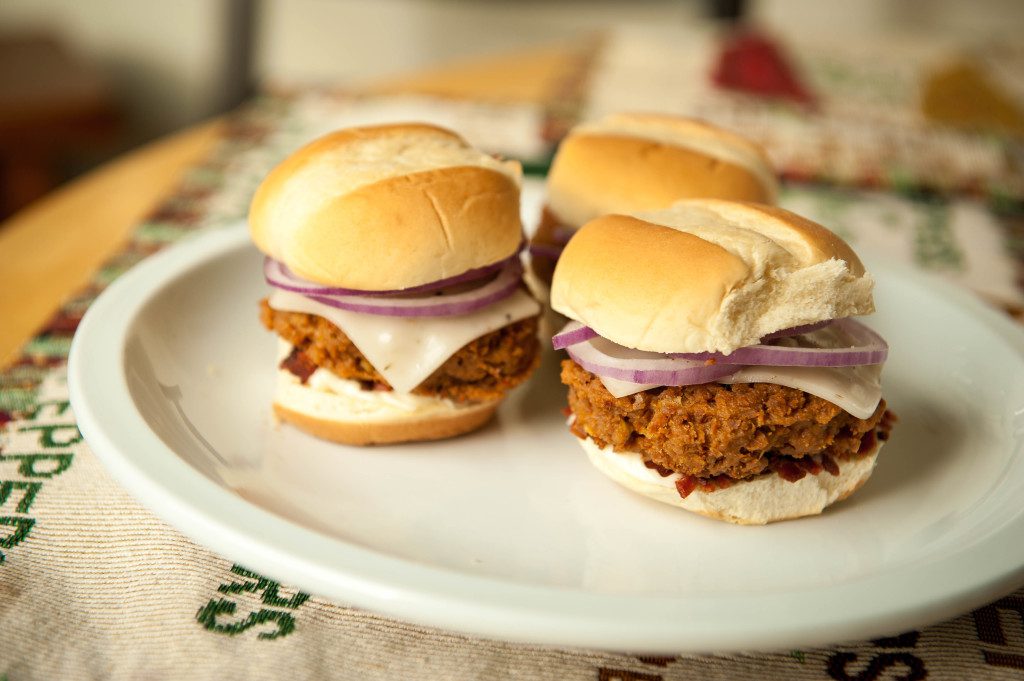 These seasoned, crispy Field Roast Meatloaf sliders created by
Chuck Pepper Jr.
are an excellent choice for
game day
!  Fix up the patties with Chao Cheese slices and the condiments of your choice.
Print Recipe
Ingredients
1 Field Roast Meatloaf
1/2 yellow onion diced small
2 tbsp soy sauce
1/2 tbsp garlic powder
1/2 tbsp onion powder
1 tbsp salt
1/2 tbsp fresh ground pepper
1 cup vital wheat gluten
1 1/4 cup water
Cooking spray
1 package of your favorite Chao Cheese (Coconut Herb pictured)
12-14 slider buns
Condiments
Directions
Preheat your oven to 400°F and spray a cookie/baking sheet with your veggie cooking spray.
Throw your meatloaf into a food processor and run it until it's broken up into small bits, about the size of meat crumbles.  In a large mixing bowl add the meatloaf crumbles, onion, soy sauce, garlic powder, salt, and pepper.
At this point I added the vital wheat gluten about 1/4 cup at a time, and about 1/4 cup of water at time and stirred it in until all the wheat gluten and water had been added. Once you've combined those ingredients it's time to get your hands dirty. Knead the dough with your hands to really activate the wheat gluten. This will help you to bind the meatloaf and other ingredients together. Knead the meat for 2-3 minutes until it starts to get really sticky.
To make the slider patties I used the top of a small, old jar and squished the meat into it. It makes perfect sized patties. Just place those on your greased baking sheet. Repeat until you've used all the slider meat.
Toss your baking sheet (not really toss, set it in there, it's just an expression) in the oven and set a 10 minute timer. When that timer goes off, remove the baking sheet from the oven and carefully turn each of the patties. Place it back in the oven for another 10 minutes.
With about 3-4 minutes left I took it back out and added the Chao Cheese (quarter the cheese and add two small pieces to each of the sliders). You can also pop your slider buns right onto the oven racks at this point to give them a little bit of a crisp.
When the cheese has melted remove everything from the oven. Top with your favorite condiments (I added vegan mayo, vegan bacon and red onion. That's how I roll).
Enjoy!