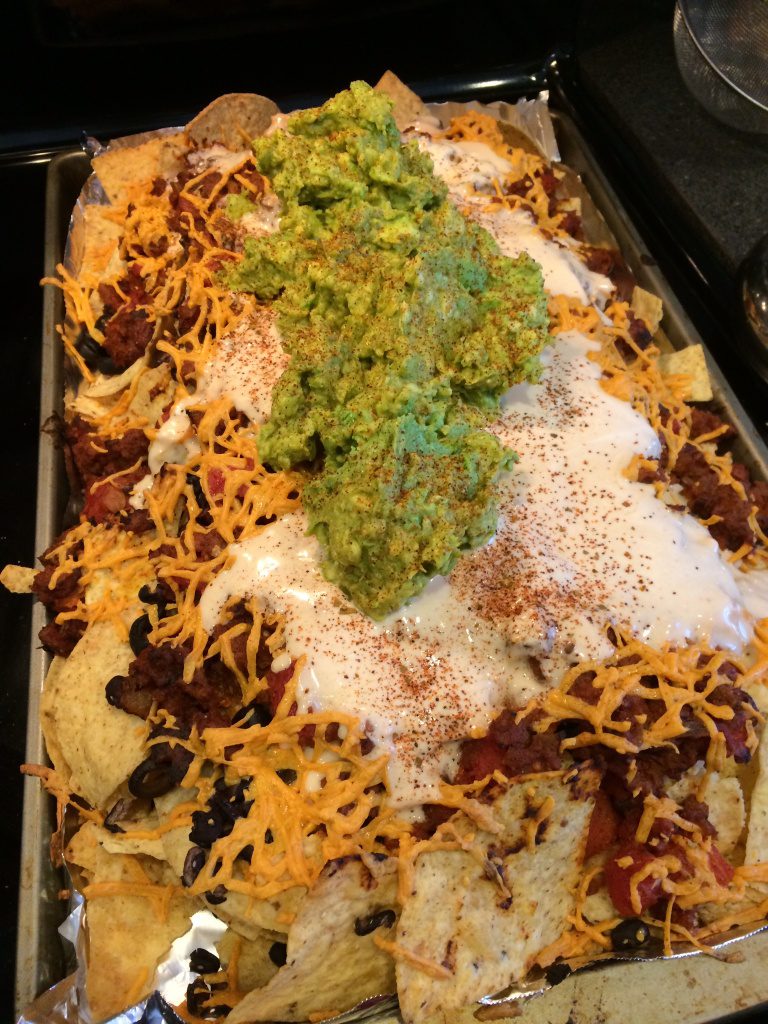 These loaded nachos are a fan favorite.  The Field Roast Classic Meatloaf makes a quick and hearty chili.   The nachos are topped with the chili and smothered in vegan cheese, chipotle sour cream and spicy avocado. They are perfect in the oven at home or in a large grill pan at the tailgate.  You won't be able to stop eating them! -Cooks in the Field 
Grill Master
 Adam Rosen
Print Recipe
Ingredients
24 oz. bag Tortilla chips
1 package Field Roast Classic Meatloaf, crumbled
2 TBS Chili powder blend
1 TBS Cumin
1 TBS Oregano
1 tsp Cayenne pepper
1 can Tomato sauce
1 can Diced tomatoes
1 Large onion, chopped
4 cloves Garlic, minced
1 can Black beans, drained and rinsed
1 small can Olives, sliced
1 container Vegan sour cream
2 Chipotles in adobo, minced with juices
1 package Shredded vegan cheese
2 Avocados, mashed
Juice of 1 lime
Hot sauce, to taste
Directions
Preheat the oven to 350°F or if using grill, prepare for indirect heat.
Place onions in large skillet over medium-high heat and sauté until translucent.  Then toss in crumbled Field Roast Classic Meatloaf and sauté a few minutes more.  Add the garlic and sauté for 30 seconds. Add the tomato sauce, tomatoes and spices.  Stir and cover for 10 minutes.
Meanwhile, mix the chipotles in adobo with the sour cream and the mashed avocados with the lime juice and hot sauce to taste.
Assemble the nachos! Spread the nachos on a large cookie sheet or grill pan.  Evenly distribute the beans and olives.  Then spread the chili on top of the chips, beans and olives.  Finally, sprinkle the cheddar cheese.  Place in the oven or on the grill for 20 minutes.  The cheese should melt and the chips turn light brown.
When the chips are done, smother the chipotle sour cream and spicy avocado on top.  Serve immediately! You may need a fork.