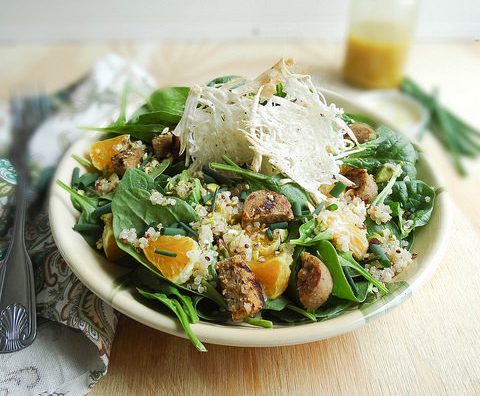 This salad by
Heather Poire
is hearty AND refreshing! The Chao Cheese crisps envelope the taste of your favorite cheese in an entirely new crunchy texture over a bed of fresh greens, Italian Sausage, quinoa and oranges with a spicy mustard vinaigrette.
Print Recipe
Ingredients
For the Cheese Crisps:
1/2 cup Coconut Herb Chao Cheese, shredded & divided
For the salad:
1/4 cup dry tri color quinoa & 1/2 cup water
1 link Italian Field Roast Sausage, sliced into rounds & pan fried
Couple of big handfuls of spring baby greens or baby spinach
1/2 cup oranges, sliced into bite size pieces
1 tbsp chopped sunflower seeds or pistachios
12 tbsp chives
For the Spicy Mustard Vinaigrette:
1/2 cup olive oil
1/4 cup apple cider vinegar
2 tbsp spicy mustard
2 tbsp liquid sweetener (orange juice, maple syrup, agave)
salt & pepper to taste
Directions
Pre-heat oven to 400 degrees.
While the oven is preheating, rinse quinoa in a fine mesh strainer under cold water. Bring 1/2 cup water to a boil in a small sauce pan fitted with a lid. Add quinoa, cover and reduce heat to low, simmer for 10-12 minutes. Turn off heat and allow to sit until ready to use.
As your quinoa cooks, pan fry your Field Roast Sausage over medium heat in a bit of coconut oil until golden and heated through. Remove from heat and set aside.
Shred your Coconut Herb Chao Cheese, at 1/4 cup at a time mound the cheese onto a small baking sheet lined with parchment paper or a nonstick baking mat. Bake until edges begin to turn golden and cheese melts, about 10-15 minutes.
To make your vinaigrette, place all ingredients in a jar fitted with a tight lid + shake until your dressing comes together.
Place your spring greens or baby spinach in a bowl, top with quinoa, cooked Field Roast Sausage, orange pieces, pistachios or sunflower seeds. Drizzle with vinaigrette and top with fresh chives & your Coconut Herb Chao cheese crisps. Enjoy!