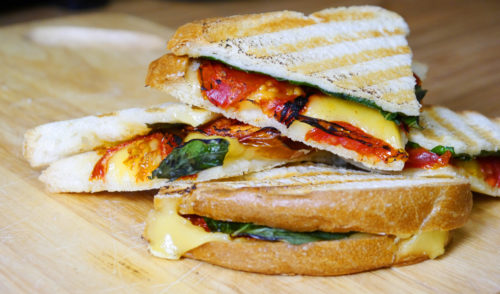 Grilled Cheese Marguerite
A classic grilled cheese sandwich with fresh basil and roasted tomatoes to add a touch of bright color and flavor, melted together with creamy Chao Slices.
Ingredients
2 slices Rustic sourdough bread
2 Field Roast Creamy Original Chao Slices
1 Roma tomato
1 clove Garlic, minced
1 tsp Safflower oil
4-5 Basil leaves
Salt and pepper, to taste
Preparations
Slice roma tomatoes in 1/4" slices and toss in oil, garlic and salt and pepper to taste. Arrange on a lined baking sheet and place into an oven at 200°F for 2-3 hours, until most of the moisture is gone.
Place Chao Slices on one slice bread along with 3-4 roasted tomatoes and basil leaves. Top with second slice of bread.
Press in sandwich press or cook in skillet over medium heat until sandwich is warmed through and Chao Cheese is melted.