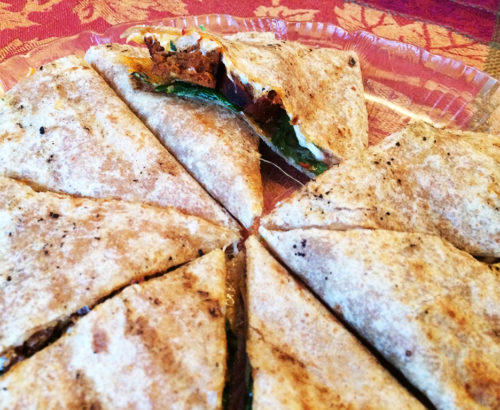 Grilled Chipotle Quesadilla
The grill will create a crisp outside and melty inside that will take this spicy quesadilla to a whole new level! Fair warning, these are very hot and not for the spice-intolerant! -Cooks in the Field Grill Master Adam Rosen
Ingredients
1 ackage Field Roast Mexican Chipotle Sausages
6 10-inch Tortillas
2 cups Shredded vegan cheese
1 jar Pickled jalapenos
4 oz Baby spinach
Preparations
Remove the sausage from package and place on an oiled grill grate. Rotate until all sides are charred. Once cool to touch, chop the grilled sausages into bite-sized pieces.
On one half of a tortilla, spread an even layer of vegan cheese. Then top with sausage and jalapenos. Finally, add a handful of spinach and fold over. (note: I found it much easier to flip the folded over halves than to use two tortillas on the grill)
Grill on each side about 5 minutes until the outside is brown and crispy.
Cut into triangles and serve immediately!