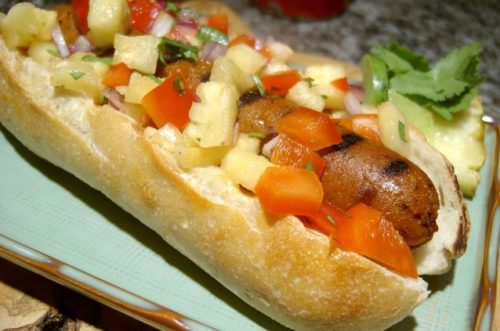 Grilled Mexican Chipotle Sausage with Fresh Pineapple Salsa
Perfect for the vegetarian BBQ! Grilled Mexican Chipotle Sausage on a chewy French baguette with fresh pineapple salsa.
Ingredients
4 Field Roast Mexican Chipotle Sausages
4 sliced Small baguettes or hoagie rolls
1/2 Pineapple, diced
1/2 Red onion, diced
1/2 Red bell pepper, diced
1 Lime, juiced
Few sprigs Fresh cilantro, coarsely chopped
Preparations
Grill sausages on medium heat with a little oil.
For salsa, use medium bowl to toss together pineapple, red onion and red bell pepper. Add juice of the lime and stir in chopped cilantro.
Serve sausage in roll and garnish with salsa.