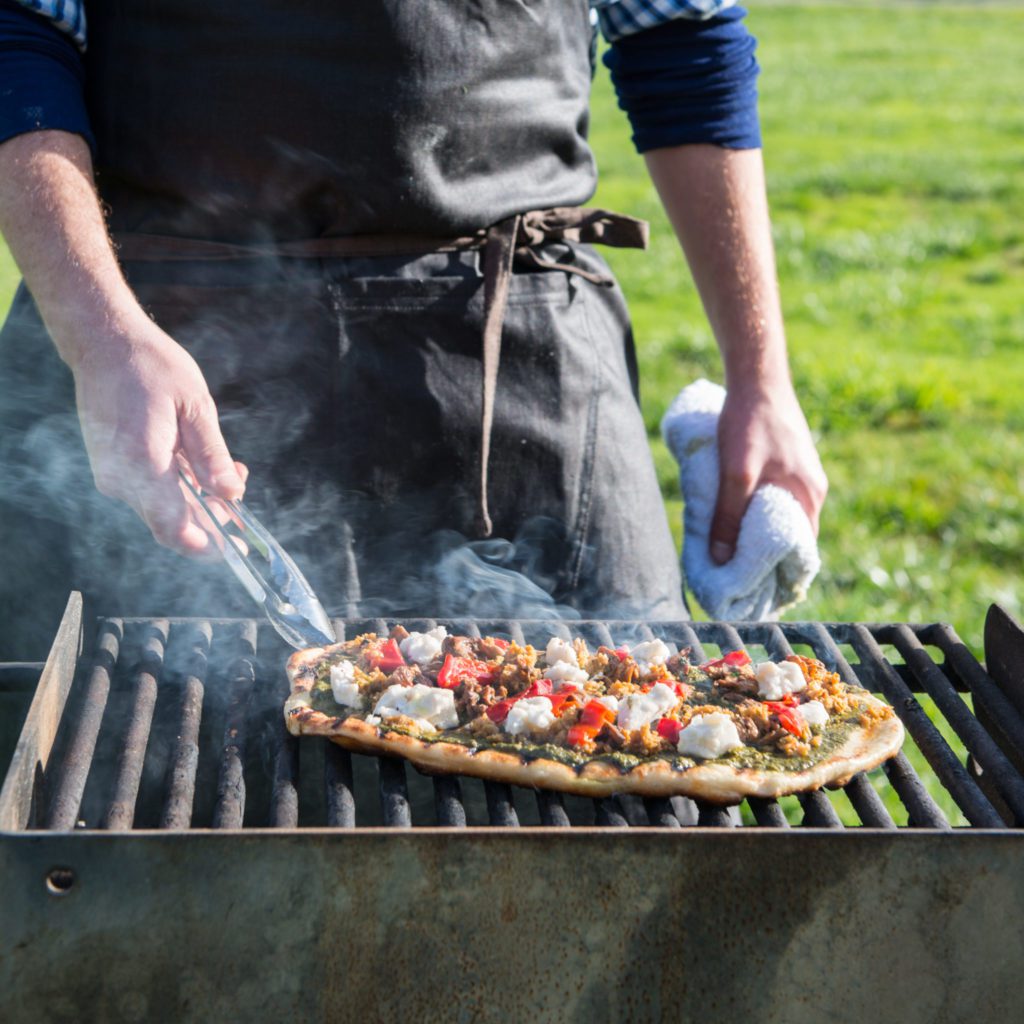 This is a delicious recipe from our
cookbook
. What are you grilling this weekend? #BringFieldRoastAlong
Print Recipe
Ingredients
1 pound Pizza Dough removed from fridge one hour before
7 ounces Italian Sausage crumbled
1/2 pound Mushrooms cleaned and sliced
1/4 cup Pickled Peppers plus Oil
3 to 4 ounces Soft Vegan Cheese
3 springs Dill large stems removed and rough chopped
3 tablespoons Vegan Butter
4 sprigs Oregano leaves removed from stems
2 sprigs Thyme leaves removed from stems
2 ounces Fresh Basil leaves removed from stems
2 tablespoons Almonds (blanched) chopped into a coarse meal
2 cloves Garlic peeled and minced
1/3 cup Olive Oil plus 1/4 cup for grilling
Flour for rolling dough
2 teaspoons Sea Salt
Directions
In a saucepan over medium-high heat add the vegan butter, thyme, sea salt, and mushrooms. Sautee for 10-15 minutes stirring occasionally until mushrooms are soft and begin to brown. Move to a plate and set aside.
In a blender or food processor add the garlic, almonds, dill, oregano, one teaspoon of salt, basil, and olive oil. Puree until smooth.
Roll out your dough into one, or multiple portions. Brush dough on both sides with a liberal amount of oil. On a grill over high heat place the oiled dough, stretching it until portions are almost translucent. Allow the dough to cook for about two to three minutes until the crust is rigid enough to flip. Then flip the crust, grill for a few seconds, then move the crust to a board to top. With the most grilled side up, spread some of the pesto, followed by the sausage, mushrooms and vegan cheese. Return the crust to the grill to cook for another three to four minutes. Remove from grill, slice and serve immediately.